What Matters Most
Caregivers providing care to our most vulnerable patients
Meet David.
He is a 60-year-old male that lives with heart failure. He is unemployed and homeless. His story is all too common. He worked as a roofer until he became sick. Loss of employment meant loss of housing.
Last fall, he was readmitted five times in the span of three months related to exacerbations of his heart failure. During his latest hospitalization in December, members of the Population Team (Kristy, RN Care Specialist and Amanda, Population Health Pharmacist) met David at his hospital bedside. After introductions, Kristy and Amanda started asking David about his story. Using the guiding principles of trauma informed care, they asked him what mattered to him, instead of what was the matter with him.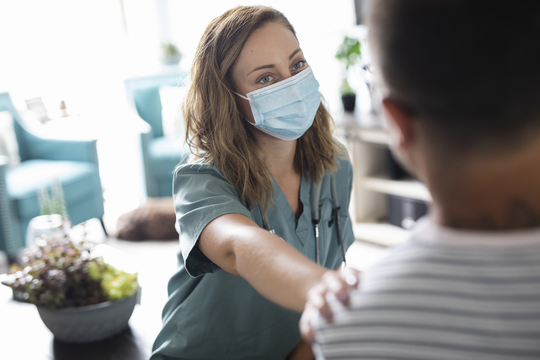 They learned David is married and has a beloved cat, he calls "Kitty". They discovered he lives under a tarp and has trouble seeing his medications in the dark. They asked what they could do to ease his way. He mentioned a headlamp would be handy, helping to navigate his way in the dark as he tried find and open his pill bottles. He expressed how cold it was and worried about the long winter.
Kristy worked with Providence St. Mary Foundation to purchase David basic necessities including a headlamp, flashlights and a warm sleeping bag (and cat food for Kitty). Kristy gave David a scale and a blood pressure cuff, essential equipment to manage his heart failure. She customized his heart failure education and taught him new skills to manage his disease.
Since Kristy has entered David's life, he has managed to stay out of the Emergency Room and the hospital. Heart failure is a costly, chronic, and complex disease. Managing heart failure isn't an easy feat in the best of circumstances, let alone someone living under a tarp, in the elements.
Serving the poor and vulnerable is rooted in our mission. Watching Kristy develop a healing and authentic relationship with David affirms our need to continue this deeply personal, trauma-informed care. That work will continue through Population Health's work and allow us to care for many more 'Davids'.