Shawna's Transformational Support System
Shawna's support network transformed her cancer care experience
When Shawna Larsen looks back on her journey through breast cancer, she thinks first of the people who took her experience from what could have been dreadful to one of positivity.
Her world was turned upside down when a screening mammogram and biopsy revealed cancer. So began a whirlwind of appointments, surgery, chemotherapy and radiation.
"It was a lot to take in," Shawna recalls.
And while the medical treatment was seamlessly taken care of, it was the additional support that transformed her experience into something manageable.
A week after her lumpectomy, Shawna met with an occupational therapist who helped her with deep breathing techniques and exercises to reduce swelling. Shawna was also connected with the Cancer Center's social worker who provided counseling to help with anxiety. Shawna recalls that Alex taught her to "take on a different perspective and say today, we're just going to look at this a different way."
Shawna also discovered the cancer support group and Zentangle-inspired art. Having local care made a world of difference for her. Despite how terrible she felt after chemo, she was appreciative that "I ache, I hurt, I hate chemo. But I'm in my house."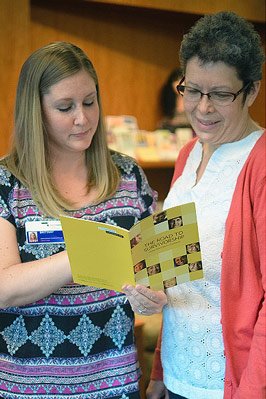 For Shawna, ending cancer treatment was bittersweet. While overjoyed her cancer was in remission, Shawna felt she was losing her support system who had been there for her daily during treatment.

"But the survivorship program helped bridge that gap," says Shawna.
Once treatment is finished, the survivorship program provides an individualized care plan and tips on staying healthy.
"Meeting with the survivorship nurse was ceremonial for me," says Shawna. "It gave me a sense of closure and put my mind at ease."
And now, Shawna can look at her cancer diagnosis a little differently.