Cardiac Care
Providence Southwest Washington Foundation
The Cardiac Care Fund provides funding to care for the hearts of our community. It supports the most advanced cardiac and vascular treatments, including new equipment and patient support programs.
Give Now
We Care for Your Heart
The Cardiac Care Fund provides funding in caring for the hearts of our community. Gifts to the Cardiac Care Fund support the latest and most advanced cardiac and vascular treatment needs, including robotic and minimally invasive procedures, through new equipment, technologies and patient support programs.
30 Minutes Is All You Need
Our Impact
The financial support of our donors is critical to continue to bring the latest cardiovascular technology and equipment to our facilities. Your support ensures our ability to provide all patients with the best possible choices for treatment. With our older population growing, we face a rise in the numbers of patients with heart disease. With your help, we can meet this need by expanding access to cardiac rehabilitation and your gift can power prevention and wellness programs in our community.
Patient Education and Support Programs
Cardiac Home and Palliative Care Programs allow patients and families to manage heart disease in the comfort of the patient's home. Compassionate care providers help minimize pain, discomfort and emergency room visits. Mended Hearts is a peer-to-peer support group for people coping with heart disease.
Innovative Technology and Diagnostics
From transcatheter aortic valve replacement (TAVR) to the minimally invasive Da Vinci robotic-assisted surgery and everything in between, donor support has helped bring new cutting edge cardiac care technologies to patients in our local communities.
Our Facility
At Providence, our facility is designed to provide you with highly skilled care after your surgery. You will be closely monitored through every phase of your recovery—from the critical care unit to the telemetry floor, in the cardiac surgery single stay unit and with our cardiac rehabilitation program.
Providence St. Peter Celebrates 100th TAVR Patient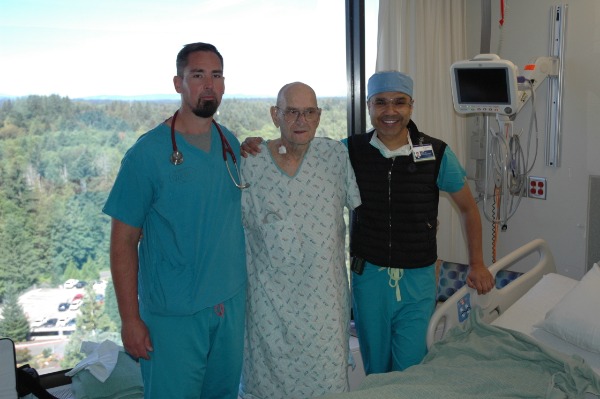 Howard Rotter can now catch his breath. The 90-year-old is back at home in Clearwater, keeping busy turning bowls in his shop and enjoying time with family, including his wife of 73 years, Fae. That's right, 73 years.
"She's put up with me all that time, so that's pretty good," Howard joked just hours after his transcatheter aortic valve replacement (TAVR) procedure at Providence St. Peter Hospital on July 11. It was the 100th TAVR performed at St. Peter since the program began a year ago.
TAVR is a game-changer for many patients who, in the past, would have needed open-heart surgery. TAVR involves catheter-based placement of a self-expandable or balloon-expandable aortic valve, normally threaded through the groin. The procedure typically takes less than two hours and the patient usually returns home the next day, compared to open-heart surgery, where the patient is normally hospitalized for five days and recovering for six to eight weeks.
Read More