Christmas in the Forest
Join us in Festive Celebration
Be immersed in a woodland wonderland of nostalgic, glitzy and sometimes wacky, festive trees and this annual fundraiser for Providence Southwest Washington Foundation.
Learn More
Join Us in Making a Difference This Holiday Season
2022 Fund A Need—Providence Oncology Patient Navigators
A gentle hand guiding patients in their cancer treatment journey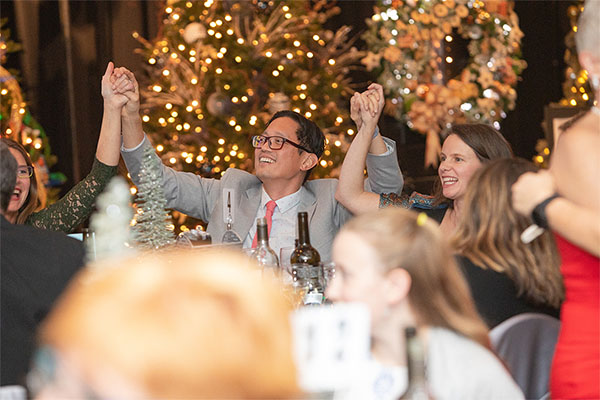 We all worry about cancer. The burden of cancer in the United States is substantial, with over 1.9 million newly diagnosed cancer cases in the U.S., and over 42,600 cases in Washington in 2022. Everyone is at risk of developing cancer, with the likelihood increasing greatly with age.

Receiving a cancer diagnosis is distressing. Patients must make multiple complex decisions within a relatively short period of time. The cancer journey often involves a number of unknowns for patients and their families/support teams. Managing all the information involved with diagnosis, treatment, addressing other needs, and coordinating care—all the way to survivorship or end-of-life care—can be daunting. To relieve some of that stress and burden is the role of an oncology patient navigator.
From a suspicious finding through diagnosis, Providence oncology patient navigators help guide patients through the cancer journey as the primary point of contact for the patient. They can assist with securing the initial appointments, coordinating follow-up visits for treatments and procedures, identifying and addressing any barriers to quality care, knowing who to reach out to if an emergency arises, and ensuring a seamless coordination of services between all members of the patient's health care team.

Our communities need oncology patient navigators to provide that necessary additional support for the growing number of patients seen at Providence Regional Cancer System.


Today, there are approximately 1,900 newly cancer-diagnosed patients receiving care at Providence in our local communities. Over the next year, we expect these numbers to grow by about 1.5% for all age groups and over 6.5% for those aged 65 and over.
Currently, we have three oncology navigators assisting breast, lung, and prostate cancer patients. This is not enough. Providence needs additional oncology patient navigators to provide support in other, more complicated cancer areas (such as with neck and head). Because of increased screening capacity in Centralia we are also seeing an increased volume of cancer patients. Also, the costs to provide an oncology patient navigator to cancer patients is not covered by any health insurance or government program. This service is made possible in part through charitable donations from individuals and businesses in our communities.


"True navigation begins in the human heart. It's the most important map of all."
— Elizabeth Kapu'uwailani Lindsey

Please join us in support of additional oncology patient navigators in the Southwest Washington area. With your gift, we can fill that critical need for a guiding hand that helps care for our most vulnerable and medically fragile patients in our communities.