Christmas in the Forest
Join us in Festive Celebration
Christmas in the Forest is an opportunity for local families and fans of holiday cheer to be immersed in a woodland wonderland with themes from Pretty in Pink, to New York New York. Nostalgic, glitzy and sometimes wacky, festive trees will be accompanied by a visit from Santa and a curation of holiday performances and activities.
The longstanding Christmas in the Forest is an annual fundraiser for the Providence Southwest Washington Foundation. A majority of the funds raised from Christmas in the Forest benefits a variety of foundation and hospital programs in addition to charity care that the hospital provides.
The elaborate trees, wreaths and vignettes that comprise the Christmas in the Forest are sponsored by local companies. In turn, a team of designers are matched up to decorate each tree and wreath to a certain theme.
Learn More
Join Us in Making a Difference This Holiday Season
2021 Fund A Need—Providence St. Peter Hospital Respite Care Program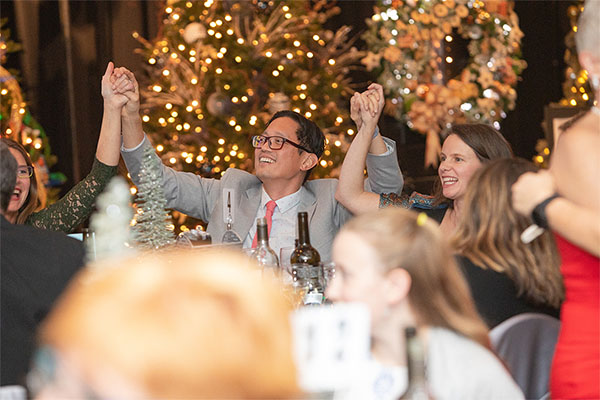 For dozens of patients without a safe place to recover following a hospital stay, a vicious cycle develops. As a result, these patients spend days, or even weeks, longer in the hospital than medically necessary. This not only causes great stress for the patient, but also for the next patient in need of a hospital bed. Discharge is delayed because these patients have nowhere to quietly rest and heal until they are well enough to navigate daily life again. It is common for these patients to struggle in their recovery and end up back at the hospital in crisis.
It doesn't have to be that way. This cycle can be broken. More appropriate care leading to better outcomes is within reach.
Providence St. Peter Hospital is poised to begin a program to provide a place for respite care and recovery, including wrap-around social service support to provide for a more stable future. The program will provide beds for up to 30 days at local hotels and shelters, complete with wraparound case management to those who lack a safe place to heal after an acute illness. We will start with four beds and grow from there. As many as 50 people are expected to benefit within the first six months, providing improved care for them and opening much needed beds at the hospital.
It's a win-win idea, with a proven track record at a Providence hospital in Spokane, a place where a similar program has run for more than five years and been expanded several times.
The Benefits
It eases a critically overtaxed system, where more hospital beds for acute care are needed.

It levels health equity gaps for the poor and vulnerable in our community.

It allows those without housing to get stronger after an illness and take more responsibility for resuming a healthier life with the support they need to succeed.

It provides for connection to resources to help with major issues contributing to homelessness, such as substance use disorder, mental health care and job training.

It alleviates unnecessary suffering, financial hardships, and economic impacts not only to our local health care systems, but to police, fire and social service providers responding to the resulting crisis when adequate recovery and support falls short.
The respite care program lends yet another chance for Providence to serve as a beacon of compassion to those most vulnerable in our community. Join us in making this an even better place to live.