Rehabilitation and Transitional Care
Providence Marianwood Foundation
Support patients in our short-stay transitional care unit (TCU) and help provide rehabilitation services for patients transitioning from the hospital to home after an injury, accident, surgery or serious illness.
Give Now
A New Life
After an accident, after a major health event, after a serious injury—high-quality rehabilitative care is key to recovering and resuming normal life activities. Providence Marianwood helps 800 patients every year regain mobility, recover from serious surgeries, and relearn basic life skills. Your gifts can help with therapies and equipment to help patients in our Transitional Care Unit regain their independence.
Our Impact
The Foundation has funded healing gardens that provide a peaceful outdoor space for reflection and opportunities to spend time in nature. Additional funding from our donors has helped us add parallel bars, NuStep Machines, and ultrasound machines to help our patients and residents as they undergo occupational and physical therapy. And our recently remodeled kitchen in the transitional care unit provides residents opportunities to work on their everyday skills and allows caregivers to evaluate their progress through therapy. We are grateful for your support that helps us provide exceptional care.



Rehabilitation Kitchen Remodel
Residents Enjoy New TCU Kitchen
After a year facing the COVID-19 pandemic in the Transitional Care Unit (TCU), where patients spend time rehabilitating before returning home, we turn to the joyful act of cooking. Cooking?
It is something the rehab staff has looked forward to since the Rehabilitation Kitchen project was put on hold at the beginning of the pandemic in March 2020.
The existing kitchen includes only a mini-fridge, microwave and toaster. This falls short of allowing occupational therapists to use their expertise to provide a more thorough objective assessment of patients' kitchen skills. They must also depend on their clinical judgments to determine a patient's safety when using a stovetop or oven and are severely limited in what they can offer patients to cook.
The new full-size kitchen will allow occupational and physical therapists, in addition to the activities department, to provide significantly more accurate assessments of patients' abilities. Patients in wheelchairs, as well as those who can stand, will have more cooking options and can be trained in one-handed techniques, use of adaptive equipment, will receive home modification recommendations, and caregiver education if a patient is no longer safe to cook independently.
The remodel will also include an activity wall and activity board adjacent to the kitchen and occupational therapy room with hand tools, art, and planting supplies that therapists can use to train and support patients.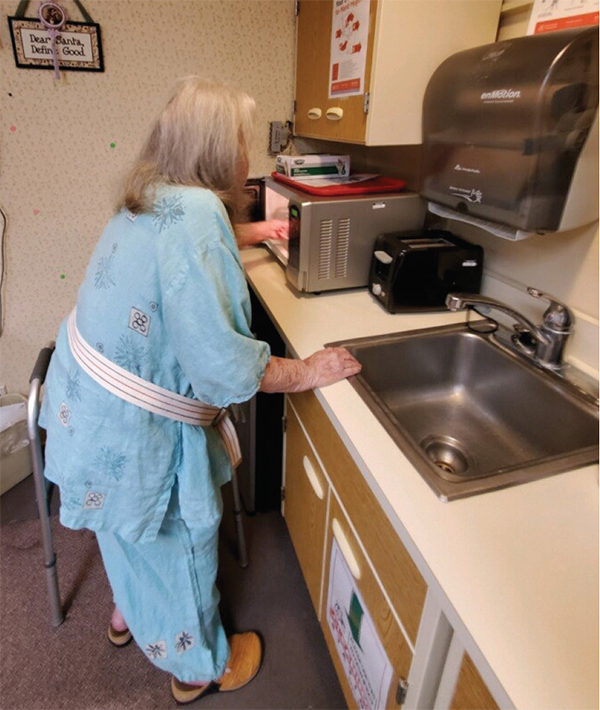 Meet Thankful Resident Diane
Diane suffered a serious fall and broke a bone in her left femur and fractured her pelvis. When she first arrived at Marianwood, Diane could not even move her leg.
She was proactive with her physical therapy from the get-go and she made positive progress before too long, by being able to walk down the hallway and climb the stairs.
Diane credits her recovery to the physical therapy team. "The efficient and helpful staff worked with me by adapting to my needs, using the best equipment as I healed and got stronger each day."
"Thank you Marianwood for your excellent professional care. Your thoughtfulness and ready attention to details are so appreciated!"