Area of Greatest Need
Providence Marianwood Foundation
The Greatest Need Fund provides immediate and flexible funding to respond to a variety of urgent needs.
Give Now
You Make a Difference
Your gift to the area of greatest needs helps us respond quickly and flexible to the needs of our patient community. This area of funding supports emerging needs like much needed medical equipment and building repairs like call light systems and security cameras to protect our residents' safety. This fund is also used to support special campaigns like a handicapped accessible bus so residents can enjoy regular outings in the community.
Assistive Technology
Donors who gave generously during the pandemic helped our patients and residents have virtual visits with loved ones, easing their fears and loneliness during a difficult time.
Improved Patient Safety
Thanks to your gifts, Providence Marianwood was able to install call light systems and security cameras to improve our patients' safety.
Community Outings
Gifts to the Greatest Need fund helped us purchase a handicapped-accessible bus so that our residents can enjoy regular outings like picnics, zoo trips, botanical garden visits and more.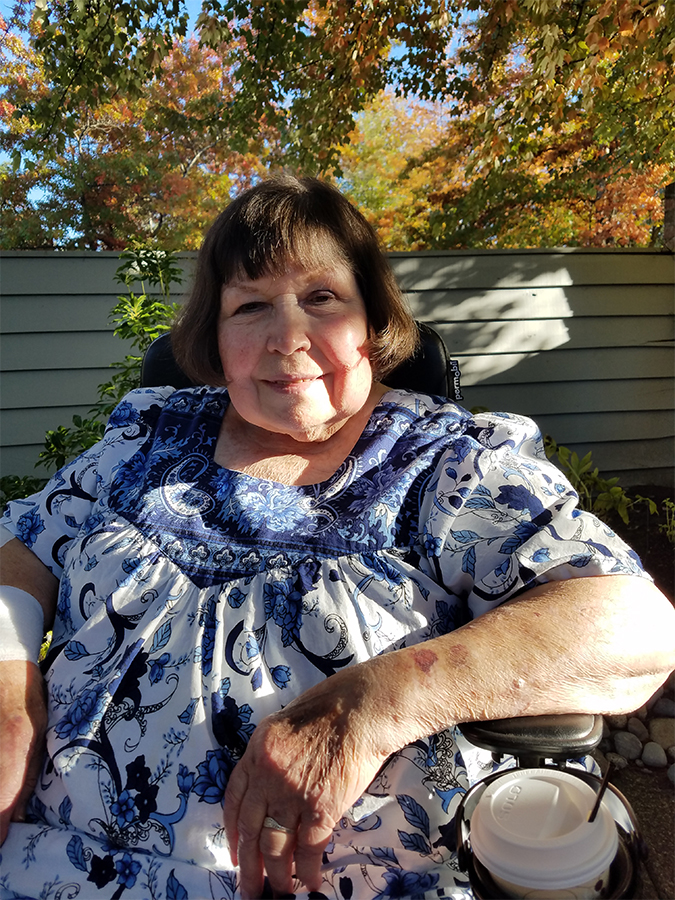 Margot first came to Marianwood as an outpatient for physical therapy following spinal cord surgery. In 2015, Margot was diagnosed with Rheumatoid arthritis while still living at home. She had the support of friends and neighbors but her condition quickly got worse. Margot began falling and was unable to take care of herself. Cooking and bathing became a challenge and she did not want to be a burden on others. She felt it was time to make a move to a place where she could receive full time skilled nursing care.
Today, Margot has found a permanent home at Marianwood. "The caregivers make me feel important. They approach me. Marianwood has given me a purpose to shine and be there for others." Margot has also become an advocate for many of the other residents. She runs the resident council of ten members and is a strong voice to ensure resident rights are delivered and co-leads resident group activities like bingo and exercise therapy.
The number of older adults, like Margot, who come to Marianwood in need of care has only increased in recent years. Thanks to generous donors like you, Providence Marianwood is able to provide much needed funds to support charitable care and a wonderful life for our aging residents and patients, many of whom have outlived their financial resources.