Residents Enjoy Cookin' Up a Storm in New TCU Kitchen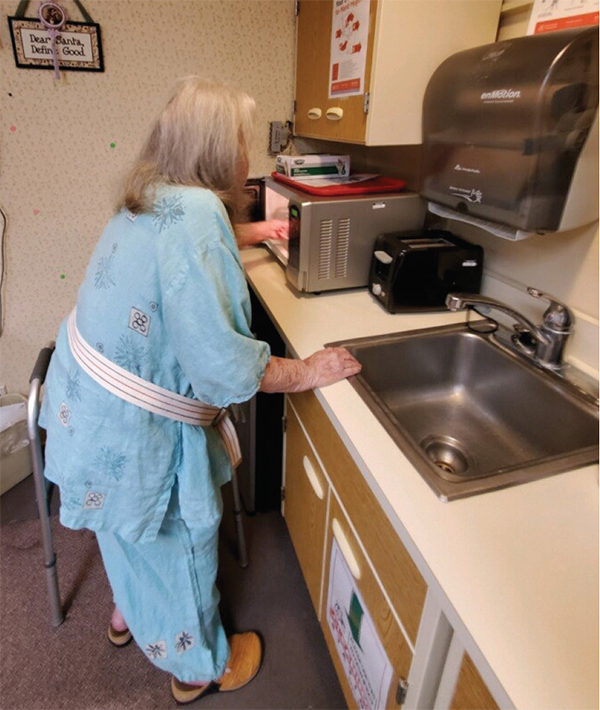 After a year facing the COVID-19 pandemic in the Transitional Care Unit (TCU), where patients spend time rehabilitating before returning home, we turn to the joyful act of cooking.Cooking?
Yes cooking. To some, that may represent a mundane chore that must be planned for in advance and performed up to three times a day. But the act of eating what is cooked usually brings pleasure. And what previously could be considered mundane is now a symbol of a return to normalcy after a year filled with stress and loss.
In summer 2021, if all goes as planned, we get to resume work on our new Rehabilitation Kitchen, paid for by the Providence Marianwood Foundation to help our rehab patients gain back the skills needed to cook for themselves when they return home.
It is something the rehab staff has looked forward to since the project was put on hold at the beginning of the pandemic in March 2020.
"I'm hopeful for summer that we are going to start our kitchen project," said Rehab Director Neelima Dittakavi. "It was on hold because we couldn't bring in anybody who isn't vaccinated. In summer we can keep doors open and if a contractor is not vaccinated, we'll try to get them vaccinated before they come into the building."
The existing kitchen includes only a mini-fridge, microwave and toaster. This falls short of allowing occupational therapists to use their expertise to provide a more thorough objective assessment of patients' kitchen skills. They must also depend on their clinical judgments to determine a patient's safety when using a stovetop or oven and are severely limited in what they can offer patients to cook.
The new full-size kitchen will allow occupational and physical therapists, in addition to the activities department, to provide significantly more accurate assessments of patients' abilities. Patients in wheelchairs, as well as those who can stand, will have more cooking options and can be trained in one-handed techniques, use of adaptive equipment, will receive home modification recommendations, and caregiver education if a patient is no longer safe to cook independently.
The remodel will also include an activity wall and activity board adjacent to the kitchen and occupational therapy room with hand tools, art, and planting supplies that therapists can use to train and support patients.
The past year was especially tough on patients in the TCU, who came to Providence Marianwood from area hospitals after undergoing elective surgeries or suffering a stroke and other acute illness. Because of COVID-19 regulations, they had to remain in their rooms and receive therapy there until they tested negative for the virus. But, as long as patients progressed, the therapists worked to send them home as healthy as possible so they could return to independence. "We tried to be really conservative to protect everybody," Dittakavi said. "We kept them as long as needed for them to meet their goals. This is what we're here for."