In Good Hands
When the adult care home Padma had lived in for two years wouldn't take her back after a fall that required rehabilitation services, Providence Marianwood offered her a permanent home.
Padma's Story as told by her daughter Agni Bhatt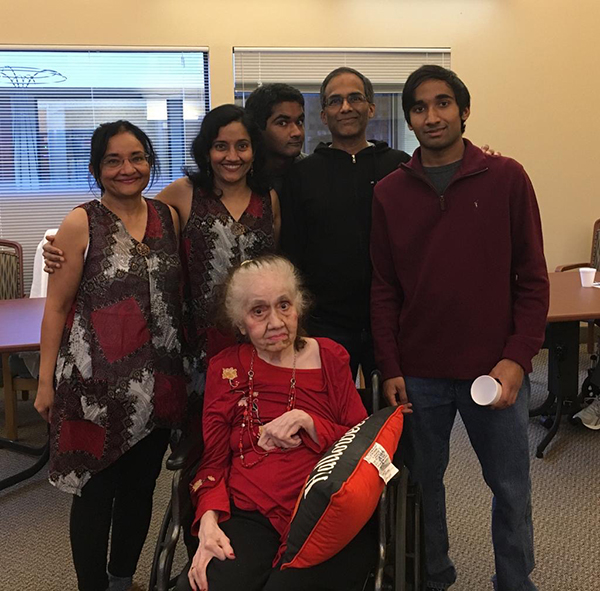 My mom was born in India, the oldest of five siblings. She started and ran a Montessori preschool. Unfortunately, without help to take care of her three young kids, she could not continue this work after running it for one year.
I came to the United States as a student over 25 years ago. After my dad passed away, my mom also moved here, splitting her time living with me and my sister in New Jersey. She had to adjust to life in the United States and did some babysitting jobs and for some time worked for as a caretaker for a blind senior in Houston.
About six years ago my mom started falling and I couldn't continue to care for her at my home. I found an adult family home in Sammamish and she lived there for a couple of years. She began falling more often and eventually experienced a more serious fall and fractured her hip. Our family later learned she has dementia and had suffered a mild stroke that caused her left side to weaken which contributed to the falls. Following a short stay at Swedish hospital, my mother was admitted to Marianwood for rehab for two weeks.
Once my mother had recovered, I was informed that the adult family home where she had been living would not take her back. Since we could no longer care for her at home, we began the overwhelming search that so many families face to find a new home for their loved ones. I contacted several adult care facilities in the area, but they were either too far away or unaffordable and would not accept Medicaid.
Thankfully, a space opened up for my mom on the long-term-care unit at Marianwood. For the last four years my mother has found a home and her new "family" at Marianwood. This has become like a second home for our entire family as we come to visit her often. I feel welcome when I visit with my mom and am so glad about the care she is receiving.
It takes a village to care of our parents with debilitating issues. Though my mom doesn't respond much now, she used to be very active and talkative. The staff has taken time to make adjustments and customized care for my mom.
As the years have gone by, her needs change and accommodations are made to make her comfortable and happy. The staff is so in tune with her needs—everything down to the kind of juice she likes or the way she likes her hair braided. There is great communication and I feel informed about my mother's care.
My mom's health has been declining. While that is difficult for our family, I know she is in good hands at Marianwood. I could not have asked for a better home and care for my mom."