A Fresh New Face
The Future of Hospital Security
In 2019, the office of Safety and Security reached out to the Foundation about a creative way to foster a better environment for safe and compassionate care – adding a new four-legged friend to the security team.
Although a relatively new practice amongst hospital security, existing K9 programs in Spokane and Alaska had already proved effective in successful non-violent conflict resolution.
"The intention of a K9 team is not to use force, but rather as a tool for de-escalation," said Safety and Security Manager Jacob Raleigh. "On the one hand, there is the fear of a bite. But also, people just love dogs which begins the de-escalation cycle with compassion. Having a K9 officer in the room often has a calming effect for caregivers, security officers, and patients to help reduce tensions of a situation"
When approached to support this initiative, the Kadlec Foundation board readily agreed and the search for the perfect pooch began. "During selection a dog for this line of work, it is important to consider it's drives and characteristics," said Raleigh. "Much like a police dog, we are looking for one that will be able to patrol the campus as well as alert staff to threats such as narcotics or explosives. A key difference however is that a healthcare security dog also has the ability to be sociable in a healthcare environment to support healthcare safety and security. "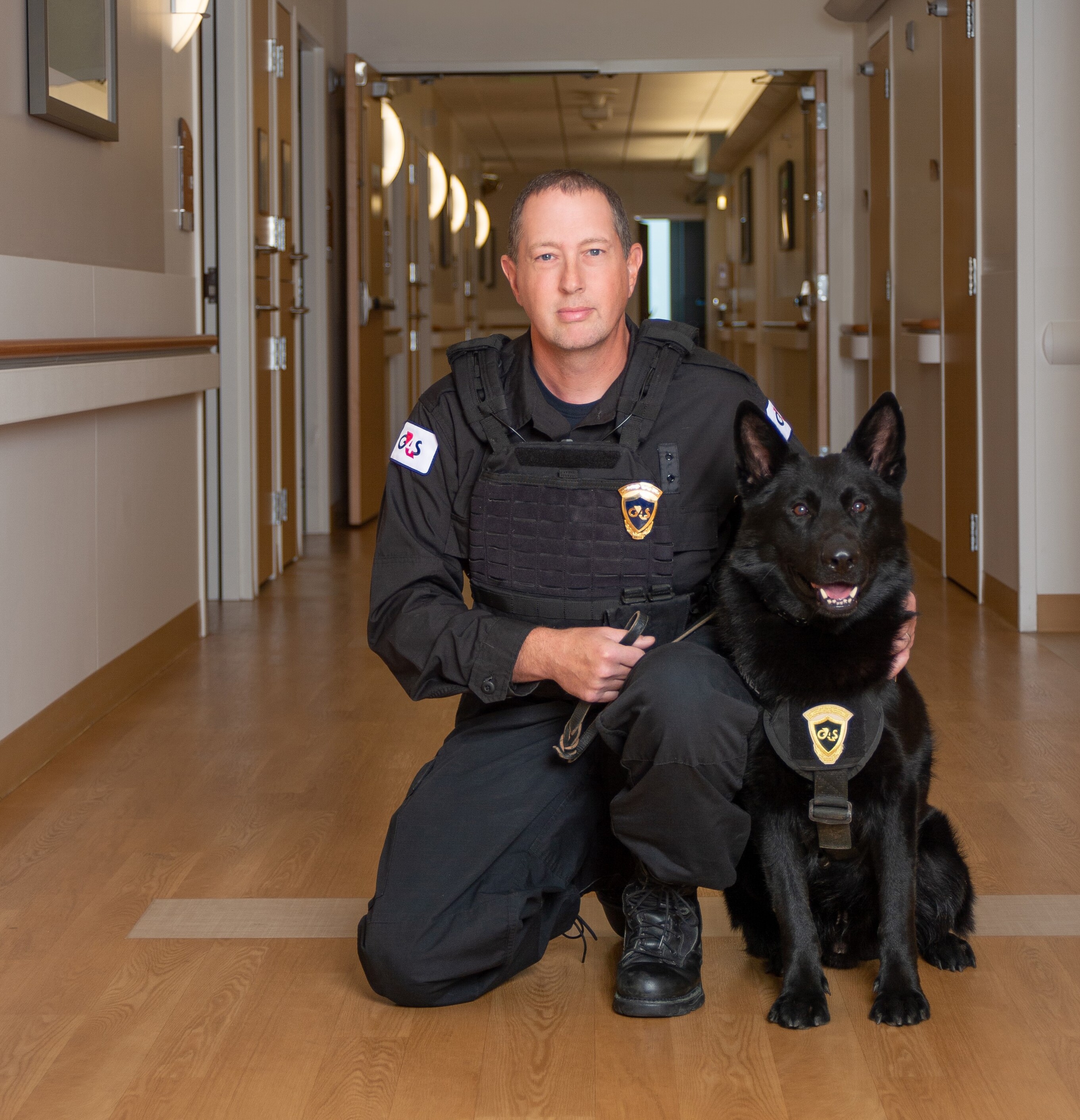 Also important, is finding the right handler. Officer Phil Reams came to Kadlec with 19 years of experience in law enforcement. Phil had worked with Kadlec for 5 years in Security and was the department supervisor when the K9 program was launched. During the program development, he brought great insight from his experience, training, and understanding of Kadlec culture. Phil was selected to be Kadlec's first K9 handler because of his belief and commitment to the success of the K9 Program.
And of course, one of the most important parts of the process is finding the right name. After a network wide survey amongst Kadlec Caregivers, it was decided that the new team member would be named Colonel after hospital founder Lt. Col. Harry R. Kadlec.
Once assembled, the team began training in August at a state of the art facility in Alabama. After 9 weeks in the southern heat, Phil and Colonel were ready to come home and get to work. On the brisk autumn morning of November 11, Kadlec officially had paws on the ground as Phil and Colonel began their first patrol of the campus.
Since then, the team has proven to be invaluable and has already assisted in several situations threatening staff and patients, quickly calming combative individuals as soon as they enter a room. "It's like night and day," said Raleigh. "We are so thankful to Kadlec Foundation for providing Colonel, and look forward to the day we are able to add additional K9 teams to further serve Kadlec."