Caring for our Children
At Providence Everett
Ensuring that the tiniest and most vulnerable among us have access to the best care available is a calling we cannot ignore.
Give Now
Serving our Tiniest Patients
More and more babies are born too early and in need of intensive, life-saving care. Because of that, and our area's rapid growth, Providence's Neonatal Intensive Care Unit (NICU)—which serves patients from five counties—is at capacity and must often turn away patients due to lack of space. These families must seek treatment in Seattle-area NICUs for their babies, often far from their homes, adding stress and expense to an already difficult time. Your support can help us expand our NICU so these babies can heal, grow and thrive—close to home.
Mental health issues in children are on the rise, worsened by the disruption that COVID-19 caused to schools and families. Unfortunately, our children have long been underserved when it comes to behavioral health resources. Donor support is helping address that with an innovative Pediatric Behavioral Health Program that embeds mental health professionals in pediatric primary care settings to increase access to these important resources.
When the Providence Boyden Family Autism Center was bursting at the seams, and children and families impacted by autism spent months—sometimes years—on waitlists, our donors helped expand the center. In 2021, donor support is paving the way for more children and families to get the resources and support they need
Our growing pediatric population is counting on us, and we must continue to be there for our next generation.
The Urgent Need for Pediatric Behavioral Health Services
Our Impact
Providence is committed to providing each and every child the best start in life and supporting their well-being throughout childhood.
Increase NICU Capacity
To meet the needs of critically ill newborns, we want to increase the number of beds in the Neonatal Intensive Care Unit (NICU) and expand our transport program for newborns requiring specialized critical care across our region.

Expand Autism Center
We are greatly investing in the Providence Boyden Family Autism Center by more than doubling the clinical space, resulting in a ten-fold increase in clinical hours. That means fewer children will have to wait for evaluation and treatment, and we can give more children and families the support they need.

Integrate Pediatric Behavioral Health Access
Providence is making a significant investment in Pediatric Behavioral Health by integrating psychiatric, counseling, social work and resource navigators into pediatric primary care at Providence Medical Group clinics.

Delivering Hope for Pediatric Behavioral Health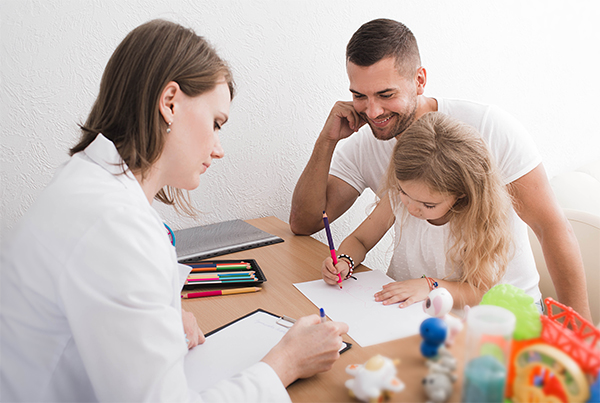 When donors at the 2019 Festival of Trees Gala raised their paddles in support of Providence's new Pediatric Behavioral Health program, they did so because of the tremendous need in our community. That night, no one knew that a pandemic was soon coming—and the pediatric mental health demands COVID-19 would leave in its wake to make the need even greater and more urgent.
"We have seen an uptick already in behavioral health needs, and some complex behavioral health needs in our adolescent population, complicated by a lot of grief and loss related to COVID-19," says Laura Knapp, Director of Behavioral Health at Providence.