Caring for our Children
At Providence Everett
Ensuring that the tiniest and most vulnerable among us have access to the best care available is a calling we cannot ignore.
Give Now
Serving our Tiniest Patients
More and more babies are born too early and in need of intensive, life-saving care. Because of that, and our area's rapid growth, Providence's Neonatal Intensive Care Unit (NICU)—which serves patients from five counties—is at capacity and must often turn away patients due to lack of space. These families must seek treatment in Seattle-area NICUs for their babies, often far from their homes, adding stress and expense to an already difficult time. Your support can help us expand our NICU services so these babies can heal, grow, and thrive—close to home.
Mental health issues in children are on the rise, worsened by the disruption that COVID-19 caused to schools and families. Unfortunately, our children have long been underserved when it comes to behavioral health resources. Donor support is helping address that with an innovative Pediatric Behavioral Health Program that embeds mental health professionals in pediatric primary care settings to increase access to these important resources.
When the Providence Boyden Family Autism Center was bursting at the seams, and children and families impacted by autism spent months—sometimes years—on waitlists, our donors helped expand the center. Donor support continues to pave the way for more children and families to get the resources and support they need.
Our growing pediatric population is counting on us, and we must continue to be there for our next generation.
Your Impact
Providence is committed to providing each and every child the best start in life and supporting their well-being throughout childhood.
Increase NICU Capacity
To meet the needs of critically ill newborns, we want to increase the number of beds in the Neonatal Intensive Care Unit (NICU) and expand our transport program for newborns requiring specialized critical care across our region.

Expand Autism Center
We are greatly investing in the Providence Boyden Family Autism Center by more than doubling the clinical space, resulting in a ten-fold increase in clinical hours. That means fewer children will have to wait for evaluation and treatment, and we can give more children and families the support they need.

Integrate Pediatric Behavioral Health Access
Providence is making a significant investment in Pediatric Behavioral Health by integrating psychiatric, counseling, social work and resource navigators into pediatric primary care at Providence Medical Group clinics.

1 Year Later: Celebrating a NICU Success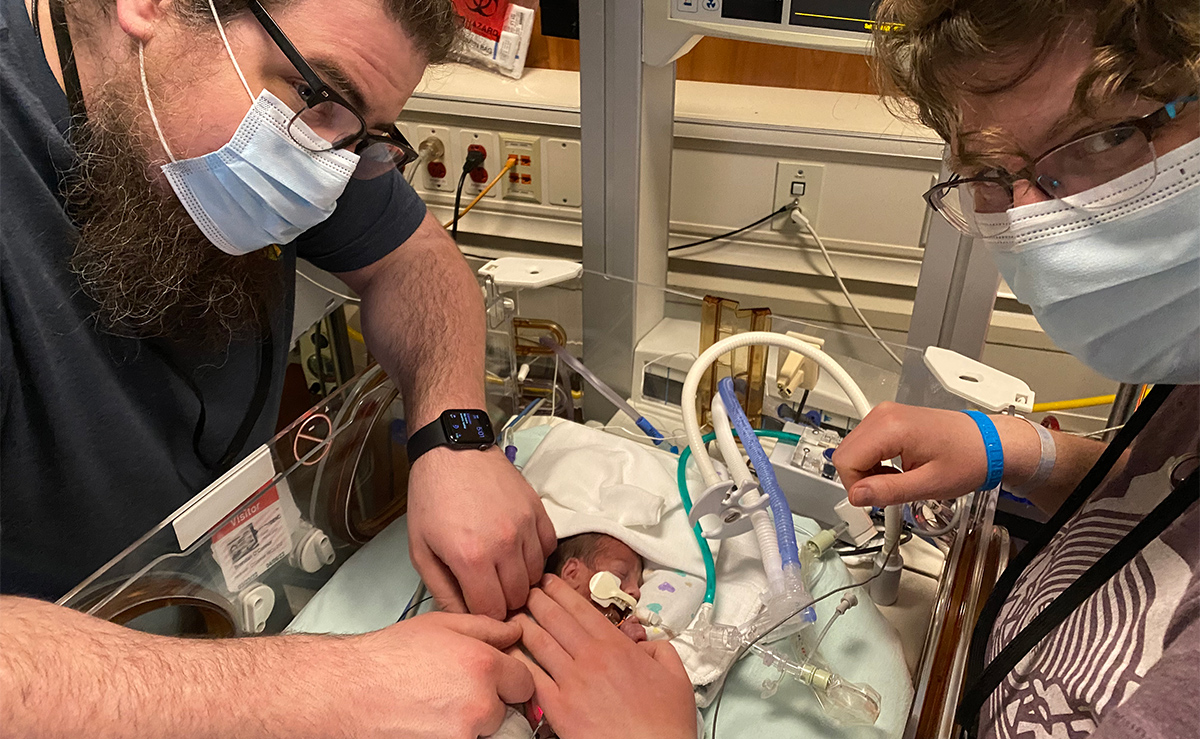 Every first birthday party is special. But when Afton O'Connor turned one year old in March, you better believe it was quite a celebration. Every day is a celebration because Afton had a rocky start to life.
Afton's mom, Lindsey, was 26 weeks along in her pregnancy when she began feeling lousy. She and her husband, Brendan, were vacationing on San Juan Island. Lindsey felt so uncomfortable, she thought something must be wrong, so they decided to go to the freestanding emergency room in Friday Harbor. A doctor there told them Lindsey was in labor— shocking and scary news.
"No organ system is finished developing at 26 weeks, so there are potentials for negative outcomes in every organ system," said Brendan.
The O'Connors were told their baby would need intensive care if he did, indeed, come so early.
Providence Everett had the closest Level III Neonatal Intensive Care Unit (NICU), so a fixed wing air ambulance flew Lindsey and Brendan to Paine Field and then rushed them to the Providence Pavilion for Women & Children.
Medicine that Lindsey was put on before the flight had stopped her contractions. Now, at Providence, the attention turned to doing all they could to prepare her baby for a potential early birth.
"The protocol is to have 48 hours of steroids so that the baby's lungs can develop more quickly," said Lindsey.
Afton held on that 48 hours, but barely. At just two pounds and one ounce, Afton Joseph O'Connor arrived.
He was more than three months early.
Afton was intubated and rushed downstairs to Providence's NICU, the only Level III NICU north of Seattle and all the way to the Canadian border, where he joined a cohort of other premature and critically ill babies who are given a fighting chance.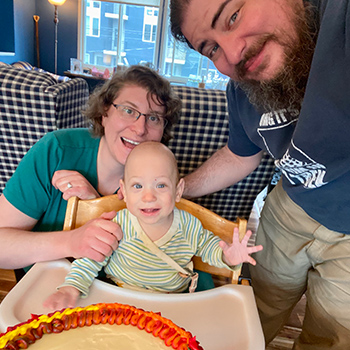 On day two of life, Afton began bleeding from his lungs. He developed holes in both lungs. His heart rate plummeted. Doctors, nurses, respiratory therapists, pharmacists—everyone available—worked for 45 minutes to bring Afton back.
Afton pulled through that episode and a couple of other serious setbacks. He kept fighting, though, and so did the NICU team. Afton stayed in Providence Everett's NICU for four months.
"You can't do better than the NICU he was in," says Lindsey. His was a rough start, but Afton is now a happy, healthy one year old who loves books, all kinds of food, and scooting himself around his home.
"We're extraordinarily grateful to all the different people who took care of our son," says Brendan.