Advancing Cancer Care
At Providence Everett
Investing in state-of-the-art technology and programs to give patients access to leading-edge treatments close to home.
Give Now
Cancer Care Close to Home

One in three people will have cancer in their lifetime. Fortunately, thanks to continual advances in diagnosis and treatment, more people are surviving cancer than ever before. A cancer diagnosis can turn the lives of patients and their families upside down, though, as treatment plans often include many months of calendars filled with appointments. Having those appointments close to home, with full access to the latest treatments, innovative technology, and leading-edge research and clinical trials makes the whole process easier and less stressful.
In 2007, Providence opened a $62 million, state-of-the-art facility on our Colby campus designed to provide a full range of outpatient cancer care services to our community. The Providence Regional Cancer Partnership is unique, offering all aspects of patient care under one roof including chemotherapy, radiation oncology, clinical research, integrative medicine, and counseling services. This comprehensive team approach allows each patient to receive a personalized treatment plan from a dedicated group of caregivers devoted to their care.
With your support, the Cancer Partnership will invest in the expansion of our clinical services to better meet the needs of the community and give more effective care. These programs include a lung screening program to provide low-dose CT screening to current and former smokers at high risk of developing lung cancer, a navigator program to guide patients through each stage of treatment, and improve their experience and a palliative care program to help patients manage their pain and symptoms.

A Customized Cancer Care Plan
Your Impact
Your support expands programs and services that offer innovative treatments and the highest quality, most effective care.
New Inpatient Unit
Because of donor support, Providence recently opened a new 32-bed inpatient cancer care unit on the 9th floor of the Cymbaluk Medical Tower to provide better outcomes and more privacy for patients and their families.
Expanded Clinical Programs & Upgraded Radiation Oncology
The Partnership is continually recognized for the highest levels of excellence in cancer care. As technology and research quickly change, you can help us stay at the top of our game by expanding our clinical services and responding to the needs of our growing community.
Increase Research
Your investment in clinical research can make more clinical trials available to our patients to provide access to experimental treatments and the latest in cancer care.

There's No Place Like Home for Cancer Care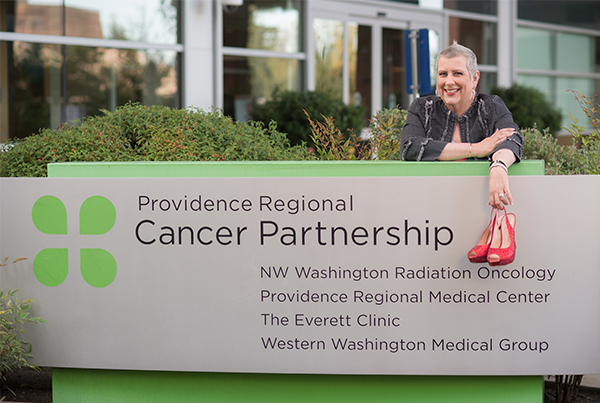 Dorothy said it best: There's no place like home. For 50-year-old Mollie Marie, that sentiment took on extra meaning this past year. Everett is home to her, and being surrounded by the place and people she holds dear helped her survive the most tumultuous time of her life.
Mollie's roots in the area go back more than 100 years—and include her grandmother, Peggy Doph, who founded a marketing firm in North Everett in the 1980s.
"I looked up to her so much," Mollie remembers.
It was her grandmother who first nurtured Mollie's love of fashion by introducing her to the downtown Everett boutiques as a teen. "Now I'm kind of known for my high heels and business suits," Mollie said. "I have my grandma to thank for that."
Read More