Festival of Trees
Celebrate Festival of Trees 2021
No in-person events, but the celebration will still go on!
In early December, beautifully decorated Festival trees will be in the community for you and your family to enjoy and exciting auction items will be up for grabs.

You'll also have an opportunity to make a tremendous difference for babies and families who need care in Providence's Neonatal Intensive Care Unit.
Save These Dates:
Community Tour of Trees – Sponsored by Tulalip Tribes
Wednesday, December 1 – Saturday, December 11
Online Auction & Opportunity to Support our NICU
Saturday, December 4 – Sunday, December 12
See Photos from Our 2019 Festival!

Your Sponsorship Makes A Difference!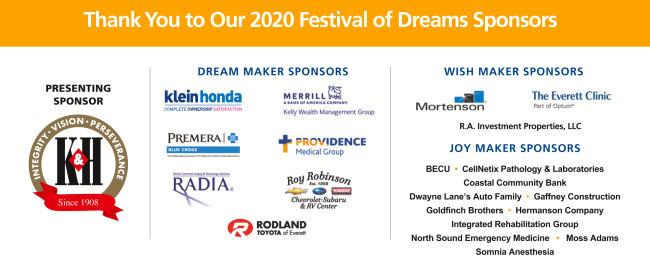 Sponsor or Volunteer for a Future Festival
Become a Sponsor
By sponsoring Festival of Trees you directly impact Children's Services at Providence Everett! You also get a variety of recognition and event attendance opportunities. We are so grateful for our sponsors and would love to have you join this dedicated group!
Serve on a Committee
Would you like to help with planning, coordinating and making sure Festival runs smoothly? Depending on your interests and experience, let us know! You can help with invitations, auction items, decorations, or even lead a committee! Reach out to learn more.

Help us with the Heavy Lifting
Do you have strong muscles? A big truck? A willingness to roll up your sleeves and get a job done? We always appreciate people who are willing to jump in and help with pre-event set up and post-event tear down and cleaning. Sign up and we'll put you to work!