Festival of Trees
at Tulalip Resort - Orca Ballroom
Free Community Day & Teddy Bear Celebration - Wednesday, Nov. 29
Gala & Live Auction - Friday, Dec. 1
Get Gala Tickets
Get ready to kick off the season of giving with us!

---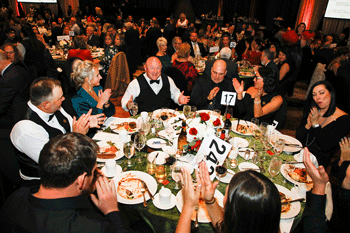 Last year was our first Festival celebration in three years due to COVID, and no one quite knew what to expect. But you came out with record-breaking generosity, even through sleet and snow, to raise more than $1.67 million for Children's Services at Providence Everett. We are so grateful to this community!
We look forward to celebrating the season of giving with you once again at Snohomish County's best holiday gathering.
Save the dates as follows:

Free Community Day & Teddy Bear Celebration
In partnership with Providence General Children's Association
Wednesday, November 29 ❄ 1-6 p.m.
Open House - No Registration Required
See what's in store for the FREE Festive Day!

Holiday Gala & Live Auction
Friday, December 1 ❄ 6-10 p.m.
RSVP by November 17
All events take place at Tulalip Resort - Orca Ballroom.
Become a Sponsor or Volunteer at Festival
Become a Sponsor
By sponsoring Festival of Trees you directly impact Children's Services at Providence Everett! You also get a variety of recognition and event attendance opportunities. We are so grateful for our sponsors and would love to have you join this dedicated group!
Serve on a Committee
Would you like to help with planning, coordinating and making sure Festival runs smoothly? Depending on your interests and experience, let us know! You can help with invitations, auction items, decorations, or even lead a committee! Reach out to learn more.

Help us with the Heavy Lifting
Do you have strong muscles? A big truck? A willingness to roll up your sleeves and get a job done? We always appreciate people who are willing to jump in and help with pre-event set up and post-event tear down and cleaning. Sign up and we'll put you to work!

See Photos from Our Past Festival Events!