You Answered Our Call to Send "Nourishment & Encouragement" to Caregivers—Thank You!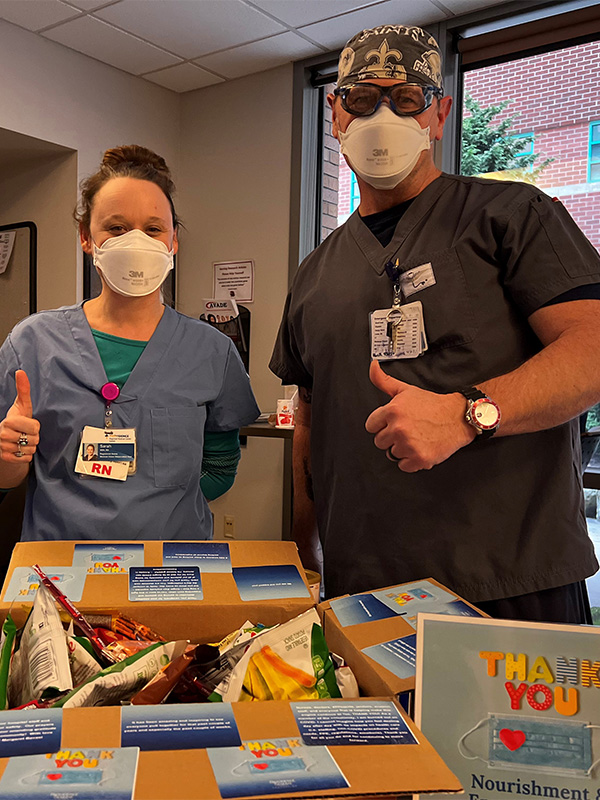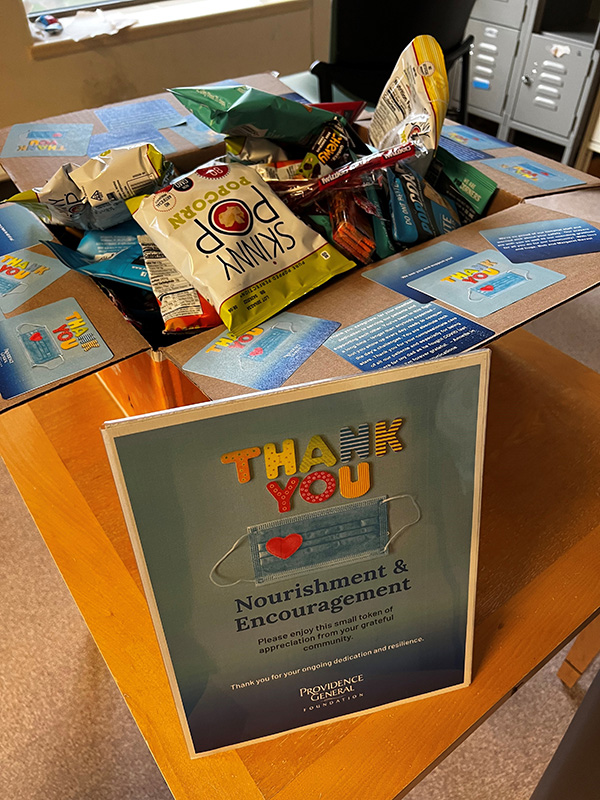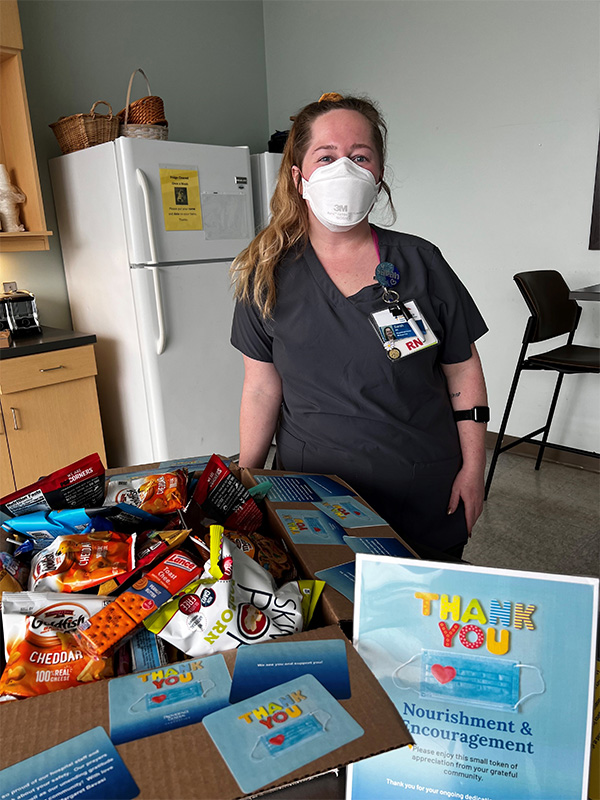 When yet another COVID variant, Omicron, began hitting hard, we sent out a call to the community to help lift the spirits and morale of our hardworking and selfless caregivers by sending them Nourishment & Encouragement.
And within 10 days, you showed an incredible depth of community support—allowing us to fill and deliver 80 boxes with 100+ treats and dozens of notes of encouragement to caregivers in our local hospitals and clinics.
All-in-all, nearly $7,500 was donated to this campaign for caregivers in an outpouring of generosity and support—thank you!
Here are just a few of the heartfelt and uplifting notes that were shared:
You are all heroes! We can't thank you enough for the critical service you provide to our community.
Thank you all, Health Care Providers, for your many years of great care, and especially now in the Covid era.
Dear heroes in scrubs, thank you for risking your lives to save ours. I wish that I could lend a shoulder or offer a huge hug for when you are weary, wipe away your tears when you feel like you can no longer endure, or diminish the anguish of seeing suffering that is beyond what a normal human being should even experience. I pray for you every day, but I also know that God holds His children close, especially those who represent the type of unconditional love that He embodies. Hang in there!
Thanks for all you do to help keep our community healthy & safe. We appreciate all your dedication, commitment & hard work to get through this difficult time.
Thank you everyone for all you are doing! We hope you know the majority of us are trying to be responsible, encouraging all we know to get vaccinated, boosted and stay safe, loud supportive voices outside the hospital. Take care and hope the little things will give you energy to continue this marathon....There is always hope!
Thank you for your hard work and commitment to the health of our community. You all are very much recognized and appreciated.
Thank you for all of your hard work on behalf of the community over the past 2 years. Much love to you. You are Awesome!
Thank you for your unwavering commitment to provide excellent healthcare to our community. We know it must be both physically and emotionally exhausting to face our current situation day in and day out. We are so grateful for you!!
The pressures you all are enduring in service to each other, your patients and our community are unprecedented. I frankly don't know how you are doing it but am extremely grateful.
Thank you for your commitment to the health and care of our community. We have tremendous gratitude for all PRMCE and PMG caregivers and are very proud to be a part of the Providence Everett family. Please take care of yourselves and each other. We will get through this!
Every day we see the cross on our hospital. Every night we see the lights from our hospital. Day and night we pause and pray for all. Thank you for your service.
We want to thank all of you for your dedication and hard work. We admire your courage and hope this will soon be over.
It has seemed as if this will never end. BUT it will. There is a sense, a feeling in the atmosphere that is a little lighter. Your dedication has helped many and has saved lives through-out this ordeal. This we know. We all also know that you have had to absorb the emotional feelings of people in pain and still carry on. A job well done is an understatement. I give you a standing ovation. BROVA & BRAVO !!! Hope you have plans to take several weeks off and care for yourself. Somewhere with palm trees.
How can we possibly thank you enough for the work you have done (and continue to do) over the past two years. Your professionalism and excellence is so appreciated!
Please know that you are thought of, prayed for, and appreciated for your strength in what you are doing to take care of all of us, and our loved ones. We feel your despair. You are loved! You are not alone! WE THANK YOU…
Thank you, caregivers, for your steadfast dedication to serving our patients and supporting each other. You've been in this fight a long time – longer than anybody expected – but you show up every day, ready to conquer the day's challenges. You are absolute rock stars. Thank you for your compassionate care of all our patients and especially for being there for my dad as he fought COVID last January. I'm forever grateful.
Nurses, doctors, assistants, janitors, support staff, and everyone that is helping make this engine continue to run, THANK YOU! As a member of the community, I am burned out on COVID. I cannot imagine how you feel dealing day after day with its impacts on health care (i.e. staffing, non-COVID procedures and needs, PPE, regulations, emotions). Thank you for all you do and for continuing to move forward.
I am grateful for everyone involved in treating, caring for and managing the virus at Providence. I know the task keeps getting bigger and harder. I would like to say thank you very much and please hang in there for all of us! We love you!!!
We're so proud of our hospital staff and worried sick about your safety. Our prayers are with you as well as our unending gratitude for all you do for our community!