Why I Give: Tom
A CNA at Providence Everett Colby Campus, Tom is proud to give back to the organization he says helped give him and his dad more time together.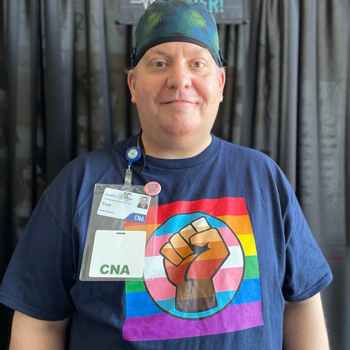 Tom Whittier, a CNA at Providence Everett Colby Campus, is proud to work for the organization he says helped give him and his dad more time together. He donates an hour of pay per pay period to Providence General Foundation through the Hour Club as a way to sustain the level of care his father received.
"Providence extended my dad's life with the incredible care he received. I wanted to be part of that team," Tom says. "When I heard about the Hour Club, I signed right up. What Providence gave us was priceless, and I'm proud to honor my dad in that way."

Tom trained to become a caregiver for his dad, Tom Whittier, Sr., in his final years of life. Tom says those years were difficult, yet special—something he wouldn't trade for anything. The two were already close, working together for years in the family carpet cleaning business. But becoming his dad's caregiver took their relationship to a new level, Tom says.

"It's absolutely mind-blowing how when you care for someone, the love – it changes. You become so close so quickly. I believe it's God's love."
It was through that care and love that Tom realized his calling to caregiving. With his father's encouragement, Tom studied in the evenings while his dad rested, and pursued the training hours with SEIU to upgrade from a paid caregiver to a certified nursing assistant (CNA) to better care for his dad and others.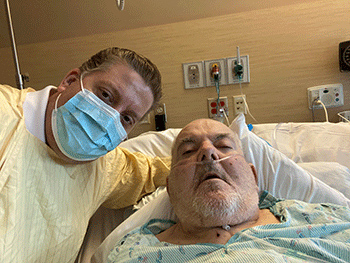 "We'd come in for appointments for my dad at Providence and he'd see the CNA badges and say, 'That's going to be you someday, Thomas.' Now I am on a lifelong mission from God to care for others the same way I cared for my dad."

After his father passed in August 2021, Tom knew there was only one place he wanted to work: Providence Everett. After applying for a job based solely on the schedule, he ended up working on 7 North, where his dad was treated so many times.

The first few months were difficult for Tom as he was flooded with memories of his dad in every hallway. He still hasn't visited the soup station his dad enjoyed every time they came in for appointments. His coworkers have helped him through the new job and processing his loss.
"I'm 50 years old and I've never met anyone in my whole life that is as amazing as the people I work with every day. They are amazing humans, and on top of that—amazing at their jobs. They've taught me everything they know and been there for me when I've broken down in grief at work. I'm blessed, I'm just so blessed."