There's No Place Like Home for Cancer Care
Donor Support Keeps Providence on the Cutting Edge of Cancer Treatment and Technology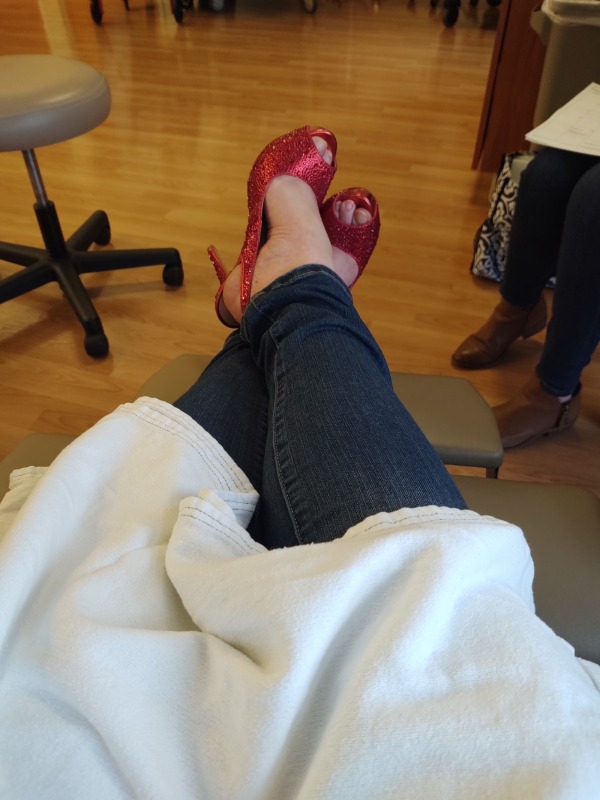 Dorothy said it best: There's no place like home. For 50-year-old Mollie Marie, that sentiment took on extra meaning this past year. Everett is home to her, and being surrounded by the place and people she holds dear helped her survive the most tumultuous time of her life.
Mollie's roots in the area go back more than 100 years—and include her grandmother, Peggy Doph, who founded a marketing firm in North Everett in the 1980s.
"I looked up to her so much," Mollie remembers.
It was her grandmother who first nurtured Mollie's love of fashion by introducing her to the downtown Everett boutiques as a teen.
"Now I'm kind of known for my high heels and business suits," Mollie said. "I have my grandma to thank for that."
Today, Mollie lives in North Everett--practically in the shadow of Providence Regional Cancer Partnership (PRCP).
"I knew it was there," she said. "But did I ever think I'd be inside? No."
That changed when Mollie discovered a grape-sized lump during her monthly breast self-exam. She had an ultrasound, a biopsy and genetic testing at Providence. Then, she received a diagnosis: an aggressive form of breast cancer. She would need chemotherapy, surgery, then radiation. She decided to get her care at PRCP—just blocks from her home.
Lipstick, pumps and chemo
Mollie's mantra is, "What you put forward is what you get back." Facing cancer treatment was no exception.
"I went there in a fluffy pink coat, high heels, and full make-up. I was determined to have the right attitude."
Those heels were something special: Sparkly ruby red pumps Mollie had bought nearly a year earlier. She didn't have an outfit in mind—but she just knew she had to add the heels to her collection.
"They just sat there," Mollie said. "When I found out I would have chemo, I knew I had to feel fierce. I had to feel like me amidst all that was happening around me."
So, those shoes went with her to every chemo and radiation treatment.
When COVID-19 happened, Mollie could no longer have a support person with her during treatment. But she never felt alone. Mollie wore a necklace that had her grandmother's fingerprint pressed in silver.
"I realized I could hold my grandma's hand," Mollie remembers. "I'd put my thumb on her fingerprint and just breathe. I know she was with me."
Mollie's community—her home—was with her, too. A local family farm sent boxes of fresh produce. Familiar views of the mountains and Sound comforted her during a brief hospitalization in the Cymbaluk Medical Tower's new oncology unit, which had just opened.
Investments in Cancer Care

Mollie was one of the first patients to stay in the newly-completed rooms on the ninth floor of the Cymbaluk Medical Tower and says it felt like a fine hotel. The beautiful, private patient rooms were funded, in part, by community donations to Providence General Foundation.
Ongoing donor support also keeps Providence on the cutting edge of cancer treatment and technology so patients like Mollie can receive world-class care close to home.
"I didn't have to go to Seattle for treatment. Providence was right in my backyard." From medical staff, to counselors, to dietitians, to Greg and Eric in the parking garage—who always greeted her with a smile—Mollie felt confident, cared for and right at home through every step.
"My community has taken care of me. I can't be anything but grateful," Mollie says.
Dorothy, in her sparkly red shoes, was right. There really is no place like home.
Mollie's treatment ended in August and her cancer was declared in remission. A few months later, Mollie celebrated another milestone: she got married! And guess which shoes she wore down the aisle?