Patient's Gratitude Goes Further with Matching Grant
See if you work for a matchmaker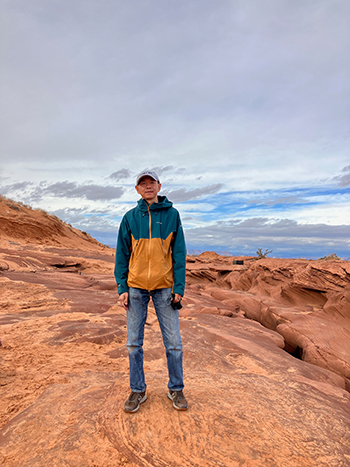 Ming "Mitch" Qi Shao arrived at Providence Everett after falling into the frigid waters of Puget Sound while crabbing. One of his oars separated from his rowboat, and he jumped in to try to get it—before long, he was too far from his boat to get back.
Luckily, a kindhearted stranger on the shore saw the situation unfold, called 9-1-1, and helped rescue him. He was dangerously hypothermic and rushed to Providence Everett.
Dr. Ryan David evaluated Mitch in the Emergency Department. He ordered fluids and heated blankets to treat Mitch's hypothermia, and nurses and technicians got to work warming him up.
"Cases like this remind us why we need the medical resources we have" said Dr. David. "The true spirit of the Everett community shined through on this day—everyone came together on his rescue, from the nurses and technicians to the bystander who called 9-1-1 and the medic crew. It was such a happy moment for me to see this good outcome."
While Mitch only spent a few hours in the Emergency Department that day, he knew he had a close call and was thankful for the care he received. He decided to make a donation to Providence General Foundation in honor of his care team.
"If I hadn't been so close to the hospital where I fell in the water, the doctors say it could have been a very different outcome. I was just so grateful for everyone who helped."
Mitch was able to make an even greater impact with a matching grant from his employer, Microsoft. When Mitch learned about this opportunity, he used the matching gift lookup tool on the Providence General Foundation website to easily and quickly submit for his match. A few weeks later, the foundation received the match from Microsoft doubling his gift.
---
Do you work for a matchmaker?

Many local and national companies will match charitable donations their employees make. Now, it's easier than ever to see if your employer one of them! Your company, your spouse's company, or a company where you serve on the board are all possible sources of a matching gift. Some companies, such as Boeing, even match donations from their retirees.