2023 Festival Chairs
Joe & Ashley Gaffney
Providence General Foundation is thrilled to announce Joe and Ashley Gaffney as 2023 Festival of Trees Chairs.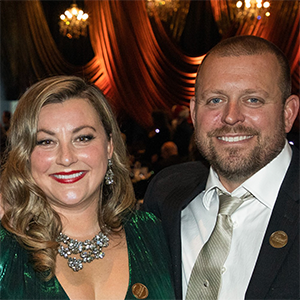 We are so honored to be this year's chairs! Our community is incredibly connected and dedicated. We always have to take a moment to soak it all in at Festival," Joe said. The Gaffney name is likely familiar for those who live in Snohomish County and attend Festival and other community events. Joe is president of the family business, Gaffney Construction, and Ashley is a community volunteer, spending many years supporting events and programs at St. Mary Magdalen School. Both Ashley and Joe have enjoyed the long-standing tradition of attending Festival with their family and friends. Last year, Ashley designed her very first Festival tree, and it was a crowd favorite!
"Joe and I love to throw a good party, but the thing we always hope for is that people feel welcomed, comfortable, happy, and fed," Ashley said. "With Festival being a fundraiser, we hope that guests not only enjoy the soirée but also see the need, feel compelled to contribute whatever they can, and leave feeling connected to our amazing community."
This year's Festival supports Children's Services at Providence Everett, with an emphasis during the Gala Fund-A-Need on Providence's pediatric behavioral health services.
"Pediatric behavioral health is one of the most significant – if not the most significant – issues facing our children today," Ashley said. "With four children of our own, we have seen how the changes in society have affected the mental well-being of so many children and families. We feel so passionate and grateful to support this need with Festival this year."
The community is invited to enjoy the beautifully decorated trees and wreaths at the free Community Day Open House and Teddy Bear Celebration on Wednesday, November 29. Proceeds from activities on that day will benefit Providence General Children's Association. The 38th annual Festival of Trees Gala and Live Auction will take place on Friday, December 1. All events will be at Tulalip Resort – Orca Ballroom.
Please join Joe and Ashley in the fun and fundraising at this year's Festival events.
Learn more