"I am so grateful to this community"
Carol Bjorg leaves a legacy through estate giving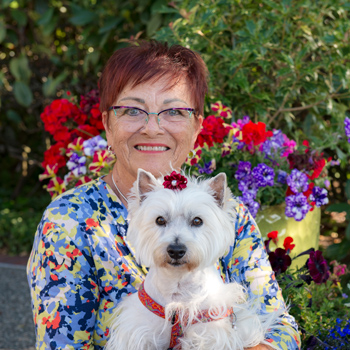 The Bjorg family is a pillar of philanthropy in Snohomish County. For more than three decades Carol, her late husband Gordy, and their two adult children and spouses have generously given their time and treasure to better the community that has provide so much for them.
"We have lived a wonderful life. We were so blessed," says Carol. "I wanted my community and our customers that supported us and our business for so many years to benefit. That's what you've got to do— support the people that supported you."
Carol's late husband Gordy worked his way up from salesman to owner and operator of Roy Robinson Chevrolet Subaru & RV Center, one of the county's most successful businesses. As Gordy Sr. began to age, his son Gordy Jr. took over running the dealership. In 2021 the car dealerships transferred to Kendall Automotive Group, while the RV Center remained part of the family legacy, with Gordy Jr. and wife Donna as primary owners.
When Providence launched the Campaign for A Greater Providence in 2018, Carol along with Gordy Jr. and Donna made the decision to make a transformational investment in the project— donating a generous $2 million, part of which included an estate gift from Carol.
The family's gift to the Campaign will help fund the new Providence Bjorg Family Neurosciences Center in the 1717 Building across the street from the Cymbaluk Medical Tower. The new space will bring together neurologists, neurosurgeons, physiatrists, and pain medicine specialists in a single location to provide leading-edge neuro care for the community.
While Carol says she's typically one to shy away from public recognition for her philanthropy, she hopes her estate gift will inspire others to consider making a gift to Providence General Foundation. By including a bequest as part of her total Campaign giving, she says she's able make the largest and most meaningful gift possible, while still allowing some financial flexibility in her retirement years.
"It can be hard to understand just how much it takes to have a great hospital close to home until you get involved," Carol says.
"It really does take a community—everyone working together to improve the hospital for all of us."