Young Donors Are Dedicated to Their Community's Health
You can raise money for Prov, too!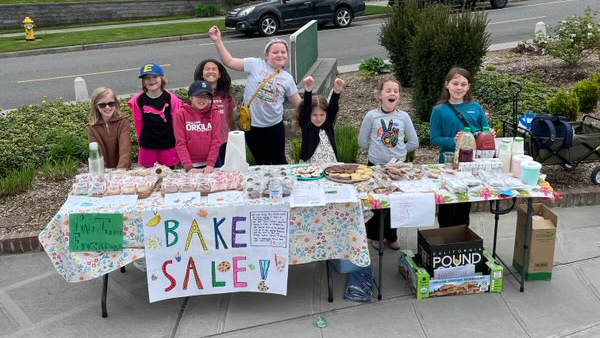 A group of kindhearted kiddos in Everett recently held a bake sale at their local park, with part of the proceeds donated to Providence and the remainder to "saving the world." We're honored to share their hard-earned donation with such a worthy cause!
Thank you to Alice, Elena, Ellie, Adele, Scarlett, Evelyn, Langston, Brooklyn, Annecy, and Jameson for caring so much about the health of your community!
They got the inspiration to start a Peace In Our Environment (PIE) Club at their elementary school after reading a book that explores the scarcity of water in the world and how some places may run out of clean water by 2025.
he kids wanted to do something right here in their community, and we are so inspired by these young philanthropists. They'll be glad to know that not only are they supporting local health care, but Providence is also right there with them in supporting the environment. Read more about that here.
---
Do you want to raise money for Providence?
Whether it's a bake sale, golf tournament, restaurant night, car wash, or something unique to you—these types of events can be a fun way to engage your community while also collecting donations for Providence Everett programs and services. An online/peer-to-peer fundraising platform can also be tailored to your event or in lieu of an in-person gathering.
Contact us today to learn more.
---

PGF@providence.org

425-258-7903