Healing Innovation
At St. Luke's Rehabilitation Medical Center
Comprehensive care is about more than just treating an injury. It's about healing the whole person and helping them live their fullest, most energetic life.
Give Now
Unparalleled Care
Each day, our innovations enhance our patients' recoveries in astounding ways. Award-winning treatments and innovative technology are just one piece of the puzzle. Our integrative approach connects extraordinary patients and their families with rehabilitation experts, holistic treatments and an energetic, supportive community that rallies behind their every success.
Our hallmarks include:
Trailblazing technology and unparalleled patient engagement
Compassionate, holistic care for patients and their families
Physical and behavioral restorative therapies
Sports and recreational activities
Practical life skill therapies
An interdisciplinary approach to recovery
Our Impact
Our fully-accredited rehabilitation center is home to an expert team that integrates treatments, technology and care to help patients of all ages achieve their goals following stroke, spinal cord injuries, orthopedic issues and brain injuries.
Team St. Luke's
Sports and recreational activities are more than just a healthy way to spend free time. They're an opportunity to learn life skills that stick with us long after our injury or illness. Team St. Luke's is a structured sports and recreation program for all ages and abilities.
Aquatic Therapy
Aquatic therapy can be crucial for patients weakened by pain, injuries, surgery and other conditions. Treatments take place in climate-controlled, therapeutic-grade water temperatures that maximize the healing effect.

Pediatric Patient Rooms
St. Luke's treats hundreds of children every year in its outpatient clinics. In 2018 we opened pediatric in-patient rooms, which enable us to provide specialized, child-oriented therapies that help kids thrive.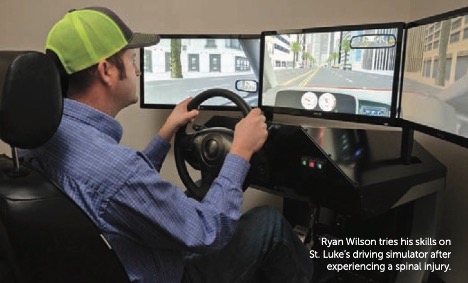 Most of us don't think twice about hopping into our car for a quick trip to visit the grocery store or coffee shop, or a meeting with family and friends.
But for people who have experienced a brain or spinal cord injury or a stroke, this everyday task is much more complicated. Although many people with disabilities are safe drivers, some require training to regain their driving abilities, and others simply need reassurance they can get behind the wheel with little risk to themselves or others.
Now, thanks to funding from Providence Health Care Foundation, Empire Health Foundation and Craig H. Neilsen Foundation, patients at St. Luke's Rehabilitation Institute have access to an interactive virtual reality driving simulator.