Integrating Faith With Health
Our spiritual care team strives to provide healing spiritual care and compassionate spiritual support for the whole person (mind, body, and spirit).
Give Now
Caring for the Soul
Spiritual care is the responsibility of all caregivers ministering to patients, families, staff and all who enter our community of healing. Under the belief that every human life is sacred and valuable, our local hospitals offer spiritual care and support. We truly believe in the importance of faith in healing and seek to serve the spiritual needs of all our patients and their loved ones.
Your financial support allows us to offer programs, such chaplaincy services, music thanatology, supportive end of life care and arts in healing. These programs are just a few example of how we help patients discover meaning, comfort and hope during a difficult time.
Chaplaincy
Spiritual caregiving teams at Providence are composed of highly trained chaplains who provide confidential and nonjudgmental support to individuals facing illness, whatever your beliefs. Using their knowledge, they focus on helping patients understand the deeper spiritual meaning of suffering, sickness, health and wellness.
Music-Thanatology
When someone you love is suffering from a serious illness, there's nothing you wouldn't do to comfort that person, to take away some of the pain and anxiety. Providence offers a special service called music-thanatology, also called prescriptive music, to help your loved one relax and cope with the symptoms they're experiencing.

Healing Garden
The Healing Garden, located across the street from the Sacred Heart Emergency Department, is a peaceful place with flowing streams, waterfalls and walking paths. It is a beautiful space where people can get away from the hospital, connect with God and nourish their spirits in nature.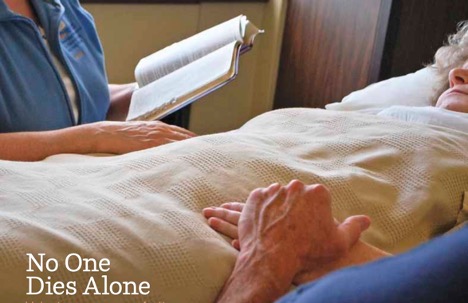 While many people are not comfortable with the subject of death or the process of dying, Don Craton and 36 other volunteers with the No One Dies Alone program consider it an honor to be with people when they pass away.
"I feel honored and humbled and blessed," Craton says. "To be present for this leaves you feeling a great sense of purpose."
The No One Dies Alone program at Providence Sacred Heart Medical Center & Children's Hospital and Providence Holy Family Hospital ensures that patients who have no family or friends present in their last days still have someone with them during their final moments.
Learn More