Children's Health
at Sacred Heart Children's Hospital
Your support provides hope and healing for our region's critically ill and injured children, and ensures that our region's kids will receive breakthrough treatments and life-changing care, in a kid-friendly, family centered environment.
Give Now
Healing Children, Changing Lives
Sacred Heart Children's Hospital is the only full-service children's hospital between Seattle and Minneapolis, caring for more than 250,000 children over the past 17 years. Our dedicated team of over 130 pediatric specialty physicians care for the most critically ill and injured children in our region.

Celebrate Compassionate Healing
Because our kids deserve world-class care, close to home.
Child Life Program
Child life specialists are accredited professionals devoted to making a child's hospital stay as understandable and close to normal life as possible. They are a vital part of the care team, explaining procedures and helping kids process unfamiliar surroundings.

Neonatal Intensive Care Unit
As Eastern Washington's only Level 4 NICU, Sacred Heart Children's Hospital cares for the most fragile pre-term babies and those with serious medical conditions.

Pediatric Congenital Heart Surgery Center
Providence has long been a leader in innovative, state-of-the-art cardiac care and has pioneered a variety of surgical procedures now considered routine. Our pediatric surgery center is one of the most advanced in the nation.
Your Impact
In 2021 you helped support our pediatric patient emergency funds, which assist families struggling with the financial burdens associated with a child's illness. This includes everything from gas cards and overnight stays to car repairs and utility bills.

$91,874
in Patient Assistance Distributed

275
Pediatric Families Served
$334.09
Average Assistance Per Family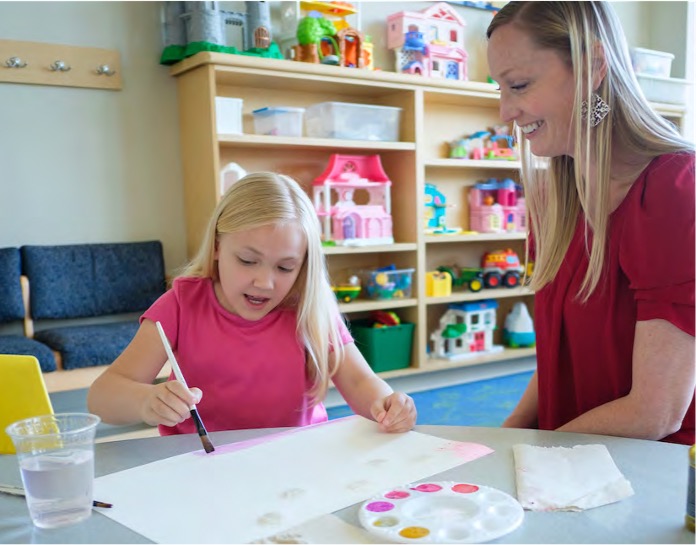 Ava Vanderhoef has received infusion therapy every week for nearly three years. Though she's become accustomed to the routine, she still dreads the moment when the nurse inserts the needle into her chest.
Ann Walker oversees weekly art therapy sessions for Ava Vanderhoef and other patients in the Infusion Clinic.
"I just hate needles," the 8-year-old says. But once it's connected—a process known as "accessing"—to a port catheter under her skin, Ava relaxes. She helps the nurse secure the line attached to a saline drip, the delivery system for an essential enzyme missing from her body.
Then she settles in for eight hours of treatment.
Learn More
Children's Philanthropy Staff