Building the Future of Heart Health
At Providence Spokane Heart Institute
Providence has a long history in Spokane of groundbreaking cardiac care led by pioneers who sometimes defied long-held standards to reach for something better.
Give Now
Building on our legacy, preparing for the future
Our superior clinical outcomes and caring team of cardiovascular experts make Providence a clear choice for both routine and complex heart and vascular treatments.
The Town and the Team: A History of Cardiac Care in Spokane
Our vision. Your community.
Imaging Technology
Technological advancements in cardiovascular imaging offer dramatic improvements in diagnosis and treatment. Your philanthropic support allows Providence to continue to refine and make accessible the highest quality cardiac care in the region.
Research, Education & Outreach
Our support programs help cardiac patients through a challenging journey. Examples include a program dedicated to caring for adults and teens living with congenital heart disease, and palliative care specialists who offer support focused on relieving the symptoms, pain and stress of heart disease.
Center for Advanced Heart Disease
This multidisciplinary team helps improve the quality of life for those in the advanced stages of heart disease. Our TeleHealth program connects people with the care they need no matter where they're located, and at-home monitoring helps keep hospital visits to a minimum.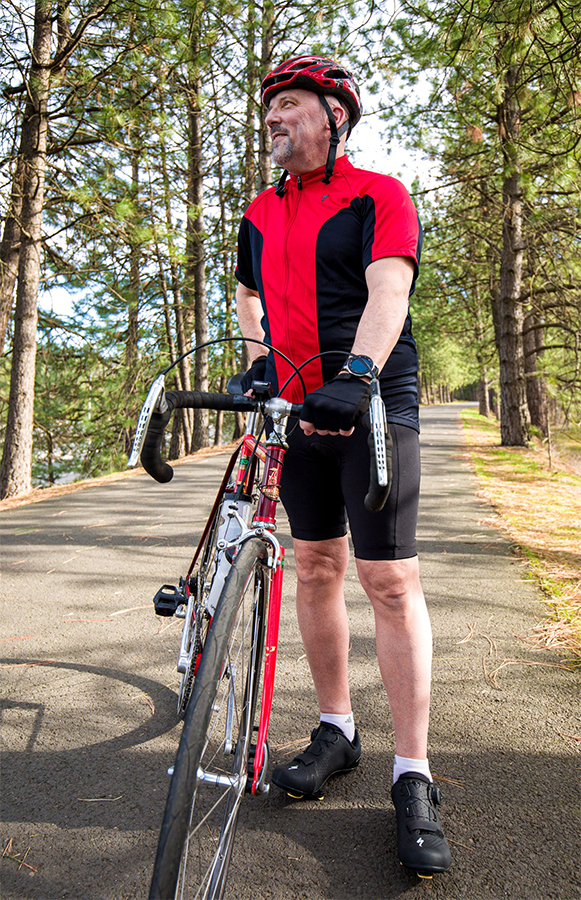 Shortly after his 50th birthday, Brian Starr contracted a virus that would change his life forever. "I ended up with a virus in my heart, and had an autoimmune response to it," says Brian. "Basically, my immune system attempted to reject my own heart."
Brian's heart was severely damaged and unable to support his active lifestyle. This made physical activities Brian enjoyed, like golfing and biking, increasingly difficult.
Fortunately for Brian, he was already working with the multifaceted care team at Providence Spokane Heart Institute, enabling him to receive world-class treatment for his condition without traveling outside of Spokane.
"The transplant program was started 30 years ago by Dr. Timothy Icenogle with a goal of using leading-edge technology and medicine to provide the safest and best care as close to the patient's home as possible," says Andrew Coletti, M.D., program and medical director. "Instead of getting one cardiologist they get a multidisciplinary team to provide one of the most comprehensive holistic medical experiences that a person can get."
While the heart transplant program at Providence is also renowned for its expertise in mechanical technology, Brian was not a candidate for a mechanical device. His only option was to wait for a suitable donor heart.
Even though Brian had faith in the process and his caregivers, there was a lot on his mind. "I was going through the struggle of knowing that someone else was going to end up dying for me to get a heart," he says. "And how do I feel about that?"
Read More
Cardiac Philanthropy Staff