Record-Setting ECMO Patient Turns 10 Years Old
A Sacred Heart Children's Hospital 20th Birthday Celebration Story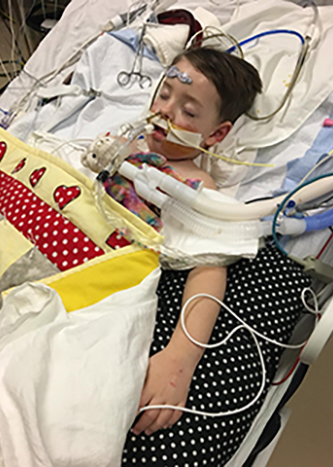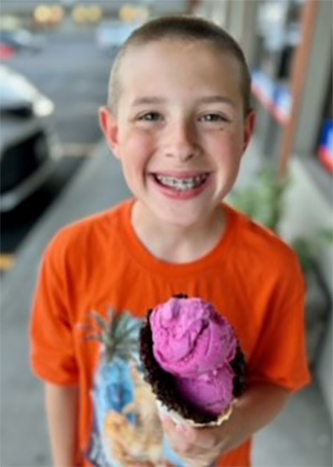 Levi Kimberling is an active 10-year-old boy, after life-saving care at Providence Sacred Heart Children's Hospital in 2018. Five years ago, Levi needed machines to keep him alive while he found the strength to get better.
In February 2018, Levi's parents took him to the doctor with a high fever and flu-like symptoms. Their doctor expected the symptoms to pass on their own.
Days later, his symptoms worsened and Levi went to the emergency room at Providence Holy Family Hospital. After an x-ray, doctors immediately sent him to the children's hospital via ambulance.
"He had tested positive for influenza B, the adenovirus, strep of the lung, and necrotizing pneumonia in his lungs, so it was eating his lungs," Levi's dad, Randy, said.
Levi was on a ventilator and struggling. Randy remembered his son being so frail that even a slight movement to put a blanket under him almost killed him.

"They moved him this much and they stopped his heart, so we got to watch all the monitors go completely blank," Randy said. A nurse saved the four-year-old boy's life that day. Unfortunately, it wasn't the last time he flat-lined.

Doctors knew their little patient needed more help to stay alive, so they suggested a form of life support called extracorporeal membrane oxygenation (ECMO). The equipment would mimic Levi's lungs, giving his organs time to heal. Sacred Heart Children's Hospital is one of only 10% of medical centers in the US with access to this technology. Still, his odds of surviving the treatment weren't good.

Levi spent 51 days on ECMO. In 2018, that was a record number of days a child was on the ECMO. Levi also broke international records in his age group for the length of treatment. Randy said his son would have died without that treatment.

Now, Levi is fully healed from the medical emergency that nearly ended his life. He loves riding his bike and scooter, shooting archery and swimming.
Levi's hero story is one of many we're honoring as part of Sacred Heart Children's Hospital's 20 Years of Heroes birthday celebration. Find out more!