Emily Drake Turns 18 After 123-day NICU Stay
A Sacred Heart Children's Hospital 20th Birthday Celebration Story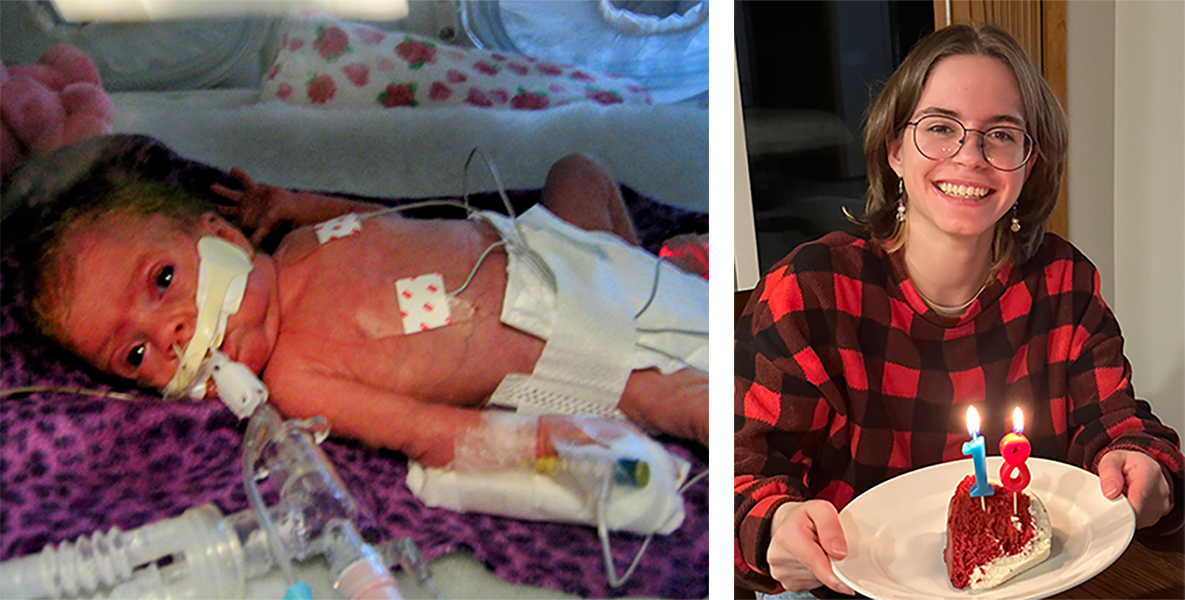 "People who hear Emily's story will often remark on our miracle girl. As I learned first-hand from my days at Providence Sacred Heart Children's Hospital, there are miracles all around." —Michele Drake, Emily's Mom

If you ask the people who have known Emily her whole life, everything she does is a miracle. Once at risk of being blind, she enjoys books and traveling to visit local bookstores. Born unable to breathe on her own, she's now an active dancer and musician.
18-year-old Emily Drake has defied the odds.
A large photo of Emily hangs in a hallway near the emergency room at Sacred Heart Children's Hospital, reminding her mom Michele of their journey.
"Often when our family or friends are at the hospital, they stop to visit the photo and celebrate my daughter's precarious start," Michele said.
Halfway through her pregnancy, Michele was hospitalized due to severe preeclampsia.
"When I arrived at the hospital, I knew our baby could not survive outside my body. I desperately hoped to stay pregnant until as close to my late-March due date as possible."
Days later, Michele developed a rare complication and had to deliver the baby to save both of their lives. Emily was born weighing 15 ounces, a micro-preemie at 25 weeks gestation. Emily was one of the smallest surviving babies to receive care at the hospital.
"She was immediately placed on a ventilator since her undeveloped lungs could not function on their own. We watched and waited as our tiny child, with feet smaller than my thumb tips, fought through each day."
Michele and her husband went through emotional ups and downs during Emily's first moments. She spent her first months in the Neonatal Intensive Care Unit (NICU). Their tiny baby went through several procedures, including laser eye surgeries, two stints on a ventilator, and weeks of treatment for a major infection.
"We did not even touch our baby for days, nor hold her for several weeks due to her fragile condition."
The Drakes struggled to understand new medical terms and prepare for potential challenges Emily would face as she grew. Each development was a sign she would survive. They spent hours in the hospital learning to feed, bathe and change diapers for their miracle baby. They tracked her feeding schedule and her vital signs.
The hospital became a second home and the caregivers became a trusted support system.
"We watched in awe as the staff treated our daughter and us as if we were family. We came to know and appreciate the nutritionists, respiratory therapists, housekeeping staff, cafeteria workers and parking lot attendants, who would often take a moment to check in and console or celebrate us depending on our needs that day."
After 123 days, the Drakes brought their baby Emily home. With still a long road ahead to get her strong and healthy, this important milestone was bittersweet.
"We were overjoyed but emotional as we left our hospital support system behind."
Michele is in awe of the person that tiny baby has grown into—a straight-A student on her way to study social sciences at Gonzaga University. Her lungs are permanently impacted, but she is still an active and talented entertainer. She enjoys community performances with her Irish dancing group. She will play violin for the Gonzaga Symphony Orchestra.
Now, as Emily embarks on another important milestone in life, heading off to college, her family is looking ahead to a bright future.
"Our family is so very grateful for the care and love we received at the Sacred Heart Children's Hospital. We continue to celebrate the lifesaving care the hospital still provides."
Emily's hero story is one of many we're honoring as part of Sacred Heart Children's Hospital's 20 Years of Heroes birthday celebration. Find out more!