Abigail Turns Two after Open-Heart Surgery
A Sacred Heart Children's Hospital 20th Birthday Celebration Story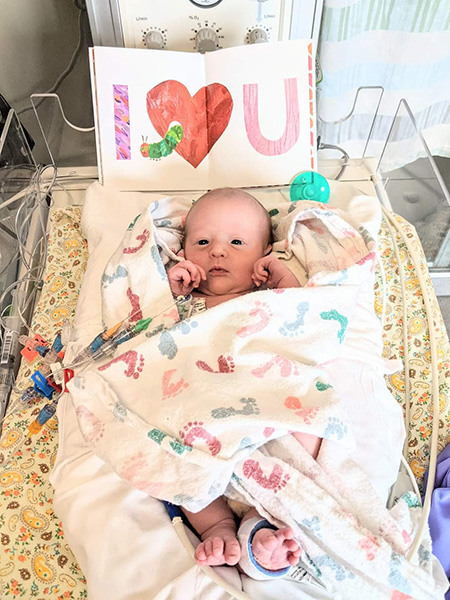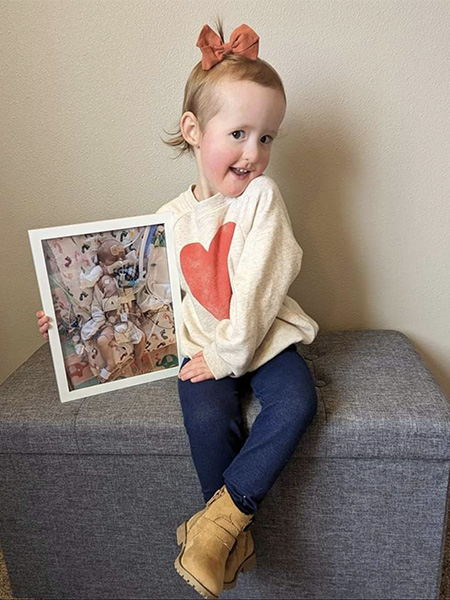 As her due date approached, Cora Kelly was preparing to take on many new titles—Mother, Caregiver, Provider, and one day, hopefully Confidante and Friend to her baby girl-to-be. After considering many name suggestions, Cora and her husband Joe had chosen the name Abigail, which in Hebrew means "Cause of Joy." As their family joyously prepared for the arrival of baby Abigail, the title of Heart Parent was not one they had ever heard before. During a routine prenatal anatomy scan, Joe and Cora learned the devastating news that baby Abigail's heart was not developing as expected, and a heart defect had been discovered. They were referred to Sacred Heart Children's Hospital, where the preparations and guidance for being a Heart Parent began.
On February 1, 2021, baby Abigail Kelly was born at Sacred Heart Children's Hospital, and was immediately admitted to the hospital's NICU for round-the-clock monitoring and specialized support for her heart condition. The medical team started the process of giving Abigail the chance to live a beautiful, long life with a properly functioning heart. With high hopes for success, Abigail underwent her first heart catheterization procedure at just four days old. After that procedure, her parents learned she would need another, more aggressive surgery.
While any parent would be anxious in such a stressful situation, Joe and Cora were comforted by the experienced care team at the Children's Hospital. At 18 days old, Abigail had open heart surgery, and this one corrected her heart defect.
February 18 is now a holiday in the Kelly household, affectionately known as Abigail's "Heartiversary" day! After this successful operation and recovery, Joe and Cora took baby Abigail home from the NICU. In reflecting on that joy-filled moment, Cora says, "Finally, when she was 27 days old, we were able to take her home for the first time and snuggle her without tubes, wires and monitors in the way!" The Kelly family was at last ready to begin making special memories with their newborn at home.
As the Children's Hospital celebrates its 20th birthday, Joe and Cora celebrate the heroes who provide life-changing care every day.
"Knowing that Abigail's care team has the education, patience, compassion and skills to support us was what kept our spirits up," they say.
The Kelly family remains deeply appreciative of the caregivers, including nurses, doctors, Abigail's heart surgeon and the administrative staff. The Kellys feel truly fortunate to have Sacred Heart Children's Hospital as a trusted partner in Abigail's heart journey.
Today, Abigail is a thriving, two-year-old, and has had only one exploratory heart catheterization procedure since her earliest days in the NICU. She may have additional heart procedures in the future, but her care plan of check-ins and monitoring are keeping her safe and healthy every day. Cora says, "The biggest thing that gives us hope today comes from the simplicity of watching Abigail grow, smile, learn, laugh and live her best life every single day." While it was difficult to receive her diagnosis and not know much about the condition, the Kelly family quickly became experts in what it means to be a Heart Family.
Today, the Kellys take part in the "Beats and Rhythms" non-profit in the community, helping support their fellow Heart Warriors. They know firsthand how each and every one of us—from providers, to parents, to our kids—are heroes. Their journey, and so many others, have truly been a journey of the heart.
Abigail's hero story is one of many we're honoring as part of Sacred Heart Children's Hospital's 20 Years of Heroes birthday celebration. Find out more!