The Gift of Time
A life-saving artificial heart supports Greg Soumokil as he awaits a transplant.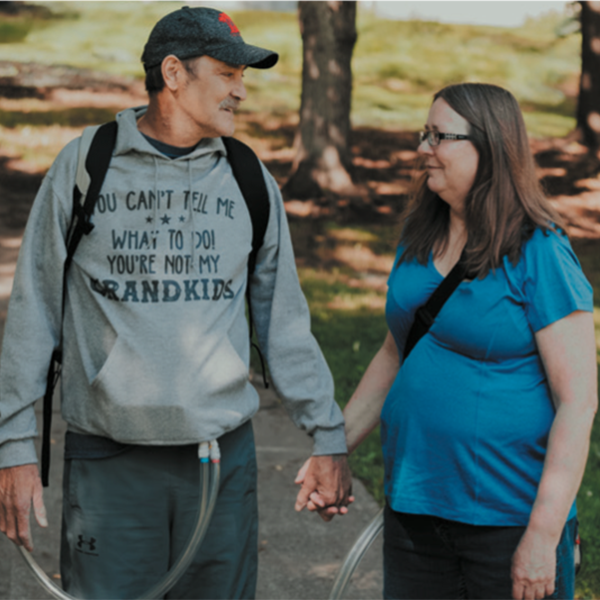 Of all the organs in the body, the heart holds the distinction of being at the center of the circulatory system; the power generator supplying the body with energy. When the heart fails, it may be a dramatic event such as a heart attack. But it can also give notice through subtle signs, easily misread or ignored. Left untreated, the heart will suffer irreversible damage, creating a domino effect throughout the body.
That's where Greg Soumokil found himself the day he passed out on an excavation job site. The Spokane resident had been feeling tired and had less stamina than usual, but he didn't think it was related to his heart.
Heart Failure Comes as a Surprise

Within 24-hours of passing out at work, Greg, 56, was at Providence Spokane Heart Institute where a pacemaker and defibrillator were put in place to help manage his erratic heartbeat. Although both devices kept Greg's heart going for several months, his health declined. He was taken to the ED on multiple occasions and spent numerous days in the hospital. "I had fatigue, I wasn't sleeping well, and my appetite was up and down. I knew things weren't quite right," Greg says.
It didn't hit home that his heart was failing until he was referred to the heart failure team. "I just thought we were moving on to see if it may be heart failure. I didn't realize I had heart failure and how advanced the heart failure was. It was kind of shocking to me," he says.
Waiting for a Heart
In late 2020, M Cristi Smith, M.D., cardiothoracic surgeon and surgical director of transplants, mechanical-circulatory support and adult ECMO at Providence Spokane Heart Institute, sat down with Greg to go over his options. "When we met with Greg he was very sick. His journey to heart failure had been going on for a while. He just didn't have a lot of time," Dr. Smith recalls.
Her team's first choice for Greg was a heart transplant. To help him get stronger in preparation for the surgery, they put him on four medications. But getting a heart proved to be more challenging than they anticipated. Greg's blood type and his height made him a difficult match.
As the days passed waiting for a heart, Greg's health slipped. His liver and other organs were declining. Concerned that he may become too sick for a transplant, Dr. Smith's team tried a temporary balloon pump device, and when that didn't work, they tried ECMO, a life support machine that pumps and oxygenates a patient's blood outside the body, allowing the heart and lungs to rest.
Still, they remained optimistic that a heart for Greg would be available any day. "But it just didn't happen," Dr. Smith says. "At the point we were at, and with no heart available on the horizon, the Total Artificial Heart was the best way forward to help get him mobile, get him talking, so he could wait for his heart, at home."
Providence Spokane Heart Institute is one of a few centers in the world to offer the Total Artificial Heart.
Taking a Leap of Faith
"That was our last step. That was when I didn't think I was going to make it," Greg recalls. "Dr. Smith sat down and said these are our last options. Donna [my wife] came in and I asked her if she was ready to go on the journey. She said, 'yes, let's do this.'"
On February 28, Greg went into surgery to receive the only FDA-approved Total Artificial Heart, a treatment option for transplant-eligible patients waiting for a heart. Dr. Smith and her team removed both ventricles of Greg's heart, then attached the artificial chambers, which connect to a pneumatic press and the controller outside the body. The press forces air through two tubes to pull blood into the artificial chambers and then force it out, in the same way the ventricles work.
Providence Spokane Heart Institute is one of a few centers in the world and the only one in the region with the capabilities and expertise to offer the technology. "This is a very unique offering we can give our patients in Spokane and in the area," Dr. Smith says.
"It's amazing, the technology. And none of this would be possible without Dr. Smith and her team," Greg says with emotion. "I wouldn't be here without them. I'm amazed at what they've done to keep me here, keep me alive, give me another chance."
Currently, there are 10 people with the Total Artificial Heart in the U.S., and 18 in Europe. Greg is one of them.
Preparing to Go Home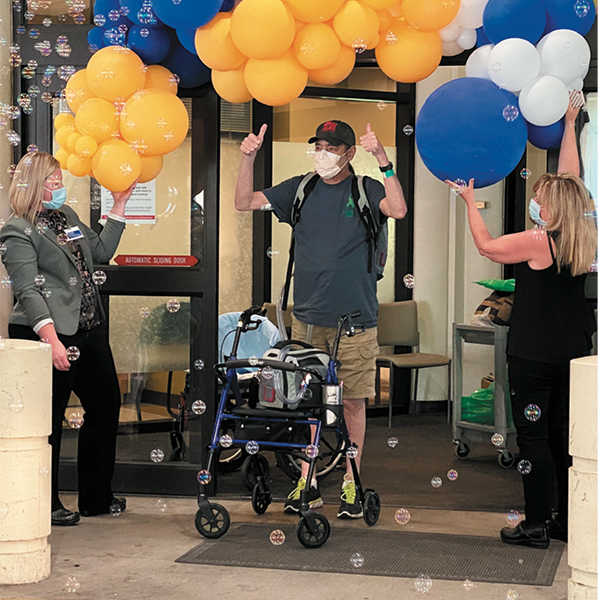 Greg remained in Sacred Heart Medical Center for nearly three months to recover from surgery and acclimate
to his new heart and the mechanics of how it works. Although it's not intended to be a permanent solution, the artificial heart allows patients like Greg to build strength and improve their overall health while waiting for a heart transplant, whether it's weeks, months or even a few years.
Dr. Smith's goal for Greg was to get him strong enough and comfortable with the technology so he could leave the hospital. At home, he can be close to his grandkids and even take his boat out on the lake occasionally. With the light and compact pneumatic press, known as the Freedom Portable Driver, strapped to his back, he can go almost anywhere.
The Providence team also reached out to other health care professionals in the area, such as EMT's and firefighters, introducing the technology and making sure the medical community knew how to help Greg if needed.
"Not only did we want Greg and his family to be comfortable with the technology, but we also want them to feel supported by the community," Dr. Smith says.
Leaving the Hospital
In May 2021, Greg walked out of the hospital to much fanfare. Not only is he the first patient to leave Providence Sacred Heart Medical Center with the Total Artificial Heart, but he's one of only 28 people in the world to have it. Currently, there are 10 people with the device in the United States, and 18 in Europe.
Although there's no way to know when the right heart will be available for Greg, he's just grateful for the chance to spend more time with his grandkids and to enjoy the feel of his boat skimming over the water. "I'm going to live every day to the fullest," he says.