Steering Committee
Driving simulator at St. Luke's clears a road to independence
Most of us don't think twice about hopping into our car for a quick trip to visit the grocery store or coffee shop, or a meeting with family and friends.
But for people who have experienced a brain or spinal cord injury or a stroke, this everyday task is much more complicated. Although many people with disabilities are safe drivers, some require training to regain their driving abilities, and others simply need reassurance they can get behind the wheel with little risk to themselves or others.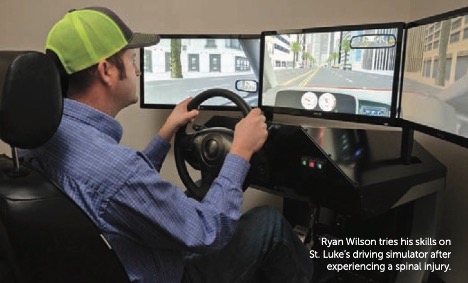 Now, thanks to funding from Providence Inland Northwest Foundation, Empire Health Foundation and Craig H. Neilsen Foundation, patients at St. Luke's Rehabilitation Institute have access to an interactive virtual reality driving simulator. The simulator helps occupational therapists determine whether a patient is ready to hit the road by replicating a number of driving scenarios. Patients drive at night, in city traffic and over winding country roads, without setting foot in an actual motor vehicle.
"Driving offers a link to independence for our patients," says Doug Weeks, director of research at St. Luke's. "The driving simulator gives us a highly reliable assessment of driving ability without putting anyone at risk.
The simulator is helping Ryan Wilson, of Athena, Oregon, regain his driving skills following complications from a spinal injury. Wilson works on his family's farm, where driving is a necessity. "I'd go crazy if I wasn't able to work," he says. Using the simulator, Wilson was able to test his skills. "It's just like driving back home," he says. "If anything, it was more challenging, because they throw a lot of different situations at you."
Patients are assessed on vehicle control, hazard perception, reaction time, memory, planning and navigation. The simulator offers hand-control options for patients who have lost the use of their legs.
Demand for the simulator is high. "Returning to driving is a goal for a majority of St. Luke's patients," Weeks explains.
"The driving simulator is a life-changing tool that can help our patients achieve that goal and regain their independence."
Wilson expects to be back on the road within a month. He's especially looking forward to driving his 3-year-old son to day care and play dates. Though he credits the therapists at St. Luke's for his progress, he admits that "the very best therapy is walking into my little boy's room."