RISE Up
New program addresses a gap in Mental Health in our region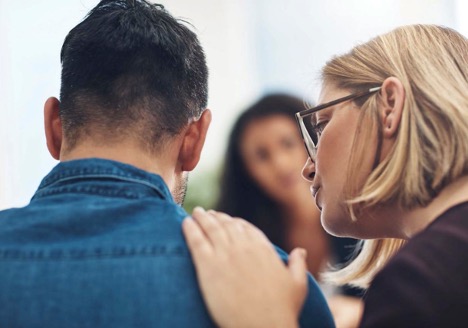 In the late hours of the night, depressed and confused, 13-year-old Jacob* was taken to the Emergency Department at Sacred Heart Children's Hospital. His grandmother, Linda, learned that Jacob had been cutting himself—a form of self-harm and a sign of emotional distress.
We've all seen the headlines: Suicide rates are surging, and resources are being stretched to the limit.
Jacob's physical wounds were treated, and now people in similar situations can be referred to a program at Providence Health Care to get further help.
This past fall, in an effort to continue to address our community's need for mental health care, Providence opened RISE, an intensive day-treatment program for adolescents and adults at Providence Holy Family Hospital Medical Building in northern Spokane.
The clinic was funded by $400,000 in grant money from Providence Inland Northwest Foundation. RISE—which stands for resources, insight, support and empowerment—reduces the need for hospitalization and helps individuals battling depression and anxiety thrive in the community. The program also serves those being discharged from inpatient hospital care.
Meeting a Great Need

Adults and adolescents like Jacob receive individualized care from a multidisciplinary, skilled and compassionate team that includes psychiatrists, psychologists, licensed independent clinical social workers and advanced registered nurse practitioners. Services include medication management, group therapy, individualized counseling, art therapy, yoga and meditation, all in a newly renovated space designed to provide a welcoming, community atmosphere.

The program is ideal for those who need a higher level of care than provided in a traditional outpatient setting but who do not require inpatient psychiatric hospitalization. "RISE offers a safe, structured environment, and participants return home at night, which helps them practice the new coping and resilience-building skills they are learning while maintaining important family and community relationships," says Tamara Sheehan, regional director of behavioral health for Providence Health Care. "Providing this type of care allows people to keep up with important obligations, such as work or school, while getting the help they need."
Helping in Many Ways

RISE is just one of several Providence programs designed to address the mental health care crisis for adults and adolescents in our region. Behavioral Education Skills Training (BEST) is a five- week day-treatment program at Sacred Heart Children's Hospital that provides intensive therapeutic treatment for boys and girls attending kindergarten through sixth grade. Providence also provides outpatient and stabilization care to adults and seniors, as well as inpatient psychiatric beds at Providence Sacred Heart Medical Center.

A joint venture between Providence and Universal Health Services recently opened a 100-bed psychiatric hospital at Fifth Avenue and Browne Street in Spokane. Over time, Inland Northwest Behavioral Health will increase capacity to care for adolescents and adults in the region.
These programs are making a difference. After Jacob completed intensive therapeutic treatment, his grandmother wrote, "You saved my grandson's life. You have helped him find joy in his life, and I now have hope for his future."
*Name has been changed