No One Dies Alone
Volunteers are a comforting presence at the end of life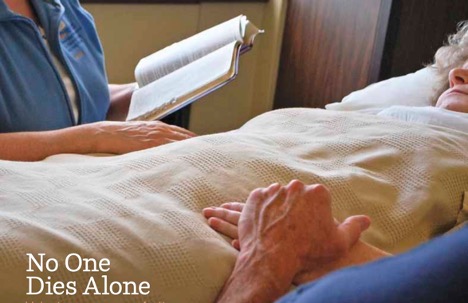 While many people are not comfortable with the subject of death or the process of dying, Don Craton and 36 other volunteers with the No One Dies Alone program consider it an honor to be with people when they pass away. "I feel honored and humbled and blessed," Craton says. "To be present for this, leaves you feeling a great sense of purpose."
The No One Dies Alone program at Providence Sacred Heart Medical Center & Children's Hospital and Providence Holy Family Hospital ensures that patients who have no family or friends present in their last days still have someone with them during their final moments.
Compassionate Need

An Oregon nurse started the No One Dies Alone program in 2001 after an ailing patient asked her to sit with him. She was busy with job duties but planned to return after her shift. By that time, the patient had died.
Since then, the program she developed has gone nationwide. It came to Spokane's Providence hospitals in January 2013, thanks to funding from the Providence Inland Northwest Foundation.
Passing along Love

While some of the volunteers have a nursing background, many do not. They come from all walks of life and bring their own gifts, providing a compassionate presence to the dying person. In line with Providence's Mission, the volunteers are charged with revealing God's love to the people they sit with, whether through talking, reading, playing music, being an advocate for the patient's needs or just letting the patient know that he or she is surrounded by love and not alone. The volunteers refer to this as creating a sacred space.
The volunteers have little personal information about the people they sit with, which Craton says is part of the beauty of the program. "You go in there with no judgment, no bias. It's a clean slate with this person."
Another volunteer, Kris Fisher, says the comforting of the patient isn't all physical. "The vigil begins for us when we get that first text or email and we start praying for that person even before we're at the bedside."
Both Fisher and Craton say everyone on the team can attest to the way the presence of another person can be a huge comfort near the time of death.
"As companions, we can provide a compassionate presence when friends and loved ones cannot," Fisher says. "To me, the spiritual journey toward death is a joyful one. I hope that by being a part of a person's transition from this life to the next, we help the family members have peace that their loved one was honored, right to the very end."
Patients are usually referred to No One Dies Alone by hospital staff, often nurses who recognize those who may need companionship. The nursing team continues to tend to the patient's medical needs while also offering support to the No One Dies Alone volunteer.
Volunteers are called in when a patient is expected to pass away within 24 to 48 hours and does not have friends or family present.