Less Clinical, More Care
Providers tailor treatments to suit the unique needs of young patients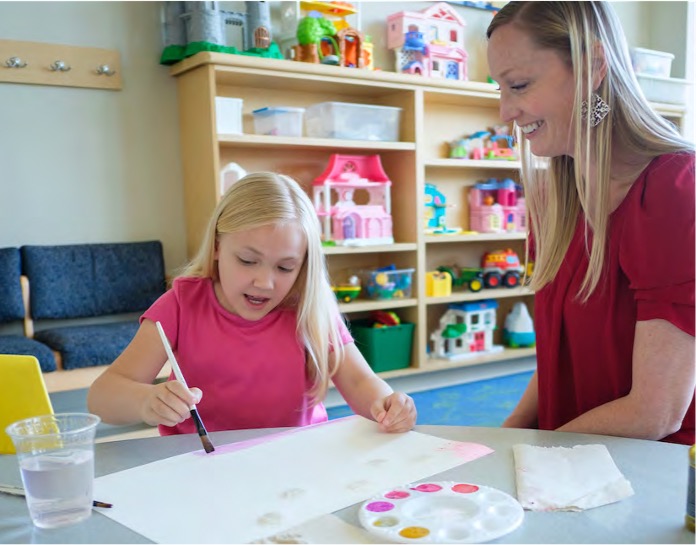 After they sign in at the front desk, Ava's vitals are checked before she and Nathan go to the "jellybean" room, named for its whimsical décor. There, Ava's port is accessed and the essential fluid begins its slow, steady drip into a vein. "Hopefully one day they'll invent something I can just drink," Ava says.
Ava Vanderhoef has received infusion therapy every week for nearly three years. Though she's become accustomed to the routine, she still dreads the moment when the nurse inserts the needle into her chest.

Ann Walker oversees weekly art therapy sessions for Ava Vanderhoef and other patients in the Infusion Clinic.
"I just hate needles," the 8-year- old says. But once it's connected—a process known as "accessing"—to a port catheter under her skin, Ava relaxes. She helps the nurse secure the line attached to a saline drip, the delivery system for an essential enzyme missing from her body. Then she settles in for eight hours of treatment.
Routines
Ava was born with mucopolysac- charidosis type IV, or MPS IV, with skeletal dysplasia that limits growth and mobility. People with MPS IV don't have an enzyme that breaks down sugar in the blood cells. Long- term enzyme replacement therapy is essential, as there is no cure.
Every Thursday morning at the crack of dawn, Ava and her father, Nathan, make the drive from Coeur d'Alene, Idaho, to the Pediatric Hematology/Oncology and Infusion Clinic at Providence Sacred Heart Children's Hospital.

Pastimes
During her infusion therapy, Ava does homework, plays Minecraft on her tablet or watches television. Some days, she makes art with the help of Ann Walker, art therapist and coordinator of the Arts in Healing program at Sacred Heart Children's Hospital. Lately, Ava has been working with paints. Last year, she was interested in creating jewelry with colorful glass beads.
Walker visits the infusion clinic every week, bringing a wide array of art supplies for patients to use while they are there. "I let the kids choose what they want to do," Walker says. "This is one way to give them some control and empowerment in their lives."
The weekly art therapy visits are only one type of support available to patients. Child life therapists and social workers also are present to meet the unique needs of patients and their families.
Victoria Wendt, RN, and nurse manager Nicole Lane work along- side eight pediatric oncology nurses trained in infusion therapy. Staff members are extremely sensitive to their patients' anxieties and do everything possible to create an environment that is calm, soothing and even fun. They encourage families to remain with their children during their infusions and to bring in personal items from home like favorite toys and photographs.
"All nurses go above and beyond, but nurse Jane has a special place in our hearts," Nathan says, applaud- ing one provider in particular. "She's really good with Ava. She treats the kids like her own."
Relationships
Patients, families and staff forge strong and meaningful bonds over the weeks, months and years of treatments. They share stories, swap recipes, celebrate life's triumphs and support one another during hard times. "We're an extension of their own family," Lane says. "And they're an extension of ours."
As a special treat, professional athletes and performers make guest appearances at the clinic. Ava rattled off a long list of movie characters she's met, as well as cheerleaders, baseball players and ice skaters. Ava's favorite visitor? The princesses from Disney On Ice. "It was a dream come true to meet them," she says.