DominiCare Helps Seniors Maintain Dignity and Independence
With the help of nursing assistant certified caregivers and thanks to philanthropic gifts, frail and elderly residents of Stevens and nearby counties receive the support they need to remain in their homes.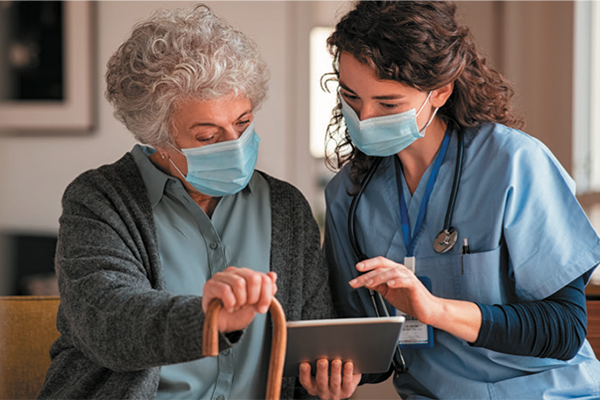 There's no place like home. But for many of our elderly and frail neighbors, the challenge of daily life makes living at home a struggle. A Providence ministry serving rural, northeastern Washington is making a difference.
DominiCare began in 1985 when a group of women from the Chewelah community identified a need and approached the Dominican Sisters with a request. Could the Sisters help offer at-home care for elderly patients who were being discharged from the hospital before they were fully able to care for themselves? Upon reflection, the Sisters launched a new community resource called DominiCare.
Nearly 40 years later, DominiCare is a state-licensed home care agency that assists frail and elderly residents of Stevens and surrounding counties with everything from bathing and toileting to meal preparation and medication reminders.
"It can be very hard for a potential client to admit they need help," says Joan Sisco, manager of DominiCare. "They often don't even realize how much they've been struggling until we start coming into the home. Our caregivers bring such joy into these homes, especially when a person doesn't have local family support."
Caregivers often serve as the eyes and ears of family members who aren't able to check in with their loved ones as often as they would like. "Each client receives a customized care plan based on their needs," Joan adds. "Our caregivers are very good at spotting when the care plan is becoming outdated, and we can make sure the client and their family know when it's time for additional help."
Services are offered on a sliding fee scale based on income. "Philanthropic support helps us keep our rates as low as possible so that clients can receive care no matter what their income," says Joan.
Most DominiCare caregivers are Nursing Assistant - Certified (NAC) and have received their training free-of-charge through classes offered locally at Providence St. Joseph's Hospital.
Lisa Johns, NAC, began working for DominiCare last year. "I love the one-on-one focus and special bonds I've formed with my clients," she says. "Independence is so important to people. The fact that I can help our community members remain on their own, in their home, is a blessing."