Back to an Active Life
A new robot at Providence Spokane Neuroscience Institute is enhancing the accuracy and recovery of spine surgery for patients like Susan Steadman.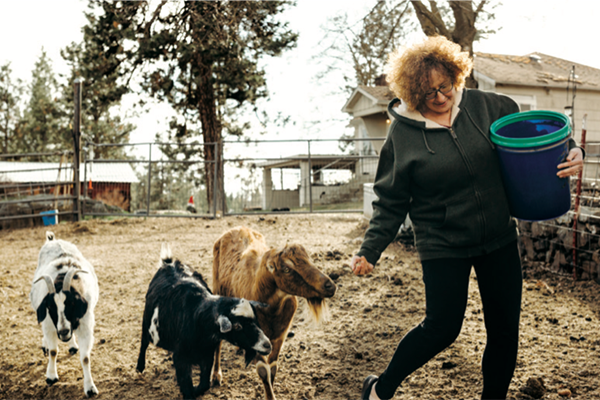 Susan Steadman's debilitating back pain didn't happen overnight. It came on slowly, over the course of several years. As a registered nurse practitioner with over two decades of experience as an emergency room nurse, Susan could read her X-rays and knew it was a mechanical problem in her spine causing the pain.
Susan, 61, tried to alleviate the constant pain in her lower back and leg by exhausting a wide range of noninvasive methods: ice, heat, physical therapy, anti-inflammatory medications and even platelet-rich plasma (PRP) therapy, a process that uses injections of one's own platelets to speed the healing of injuries.
Some of the measures helped for a short time, but the shooting pain always returned. "I tried everything but voodoo," she says.
Time to Consider Surgery?
In 2019, Susan decided it was time to explore back surgery. With her medical background and health care connections, she had heard of Nathaniel Whitney, M.D., a neurosurgeon with Providence Spokane Neuroscience Institute with expertise in treating scoliosis patients.
"They said he works on the most difficult scoliosis cases in the region, and I said, 'Okay, I'm ready to talk to him.'"
After reviewing the images of Susan's back and listening to her describe the years of pain and frustration, it was clear to Dr. Whitney that back surgery was her best option.
Without hesitation, Susan agreed. Her meeting with Dr. Whitney and his staff had given her confidence in his abilities. She knew surgery was the right thing to do.
"I was seeking a solution and I looked at it as an opportunity," Susan says." Dr. Whitney's quiet assuredness and the fact he and his nurse practitioner had reviewed my case together ahead of my visit really impressed me. And during my appointment he sat and faced me, made eye contact and listened to me."
For most people, surgery for back pain is an option when other noninvasive methods have failed, and pain is disabling. Dr. Whitney explained that imaging has become more exact and high resolution, which improves a surgeon's ability to navigate around the spine with less risk of injury to tissue or nerves.
"We're really at the leading edge of the tools we can use on surgery, and help speed recovery for our patients," Dr. Whitney says.
Robotic-Assisted Fusion
Susan's condition required freeing up the nerves at the two lowest levels of her spine and a spinal fusion.
Dr. Whitney performed the four-hour surgery on Susan at Providence Sacred Heart Medical Center, where he was aided by a robotic arm, a remarkably complex navigation device to help with accuracy.
Susan left the hospital within two days after surgery with a brace she was required to wear for nearly three months. Rehabilitation started immediately and she was fully committed. If she was told to walk 10 minutes, three days a week, she walked 20 minutes, five days a week with her two Great Danes, Vito and Molly.
Susan started a rigorous physical therapy program with input from Dr. Whitney's team. The attention to her care beyond surgery made an impression. "It showed a collaborative continuity of care," she says. "I liked the way the whole staff worked. The schedulers, the people at the desk, the nurses; everyone knew their role. I got the sense they were all there for me."
Susan encourages anyone experiencing unrelenting back pain to be persistent in finding answers. "Get good diagnostics and a referral for at least a consultation," she says. "Don't give up."
Meet Our New Surgical Robot
A new robot at Providence Spokane Neuroscience Institute is enhancing the accuracy and recovery of spine surgery for patients in the region thanks to donors who contributed $1.5 million through the Providence Inland Northwest Foundation. The robot is the only one of its kind in Eastern Washington.
Considered a best-in-class system, the robot combines surgical GPS navigation and robotic guidance to improve the accuracy of drilling and screw placement during spine surgery.
"At some point in everyone's life they have some type of spine trouble, but not everyone needs surgery," says Nathaniel Whitney, M.D., neurosurgeon at Providence Spokane Neuroscience Institute. "But if they do require surgery, this robot technology helps reduce the risks of surgery, minimize recovery and solve bigger problems related to the spine."