Back from the Brink
A patient recalls his sudden-death experience and the care that helped him heal.
"A heart condition? That could never happen to me."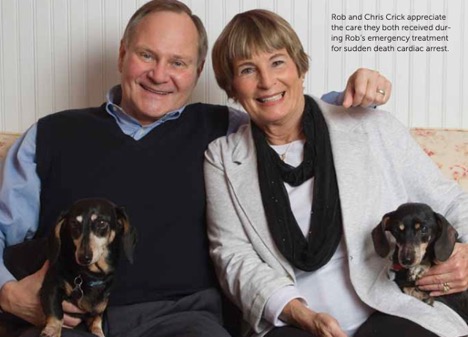 It was a natural reaction. After all, Spokane attorney Rob Crick was active and fit. An avid skier, weight lifter and cyclist, he was the picture of health.
But on July 7, 2014, while returning to his office from an appointment, Crick discovered that looks can be deceiving.
"I began to experience a lot of pain in my chest, back and jaw," he recalls. "I've been in car wrecks and played contact sports, but I had never experienced that much pain."
Crick realized that his next stop needed to be the ER, but as he drove toward Providence Sacred Heart Medical Center, he could no longer summon the energy to press the gas pedal. So instead of proceeding up the hill, he turned into Providence Urgent Care, just a few blocks from the hospital. He made it into the building, collapsed and pointed to his heart.
"With that, I was done. It was up to someone else," he recalls.
Emergency Surgery

He was rushed by ambulance the short distance to Sacred Heart and, n less than an hour, was undergoing heart catheterization surgery to repair four blocked arteries.
Crick had experienced one of the most dangerous cardiac events imaginable: sudden death cardiac arrest. It's terrifyingly simple—the heart just stops. A high percentage of patients with this condition die; others suffer brain damage. On Crick's way to surgery, his heart had to be restarted with electric shock 10 times.
Crick praises his entire Providence care team. "These folks are better than the New York Philharmonic Orchestra—they hit every note perfectly and never missed a beat."
His wife, Chris, echoes this praise, but from a slightly different perspective.
"The staff at Sacred Heart not only cared for Rob. They took care of the entire family. When the ER doctor called me, he knew just the right things to say. He conveyed that the situation was serious, but he wasn't alarmist."
Kind Care

Chris explains that the small touches from the various caregivers at Sacred Heart went a long way toward easing her fears. She is also grateful to the chaplain who walked her from the ER to the surgery waiting area and stayed with her during the surgery, as well as the physicians and nurses who explained what was going on.
"I felt like I was the only person in that huge hospital and that my husband was their only patient," she recalls.
Advanced Facilities

Three months after his first cardiac incident, Crick underwent double-bypass surgery at Sacred Heart. Because he was otherwise fit, physicians were able to use less-invasive robotic surgery, which meant a much faster recovery. In fact, surgery was on a Monday and he went home that Wednesday.
"We're so lucky to have this hospital in Spokane," Crick says. "There was no need for us to travel to Seattle or Portland. We were able to receive the very best care available, just a few minutes from home."