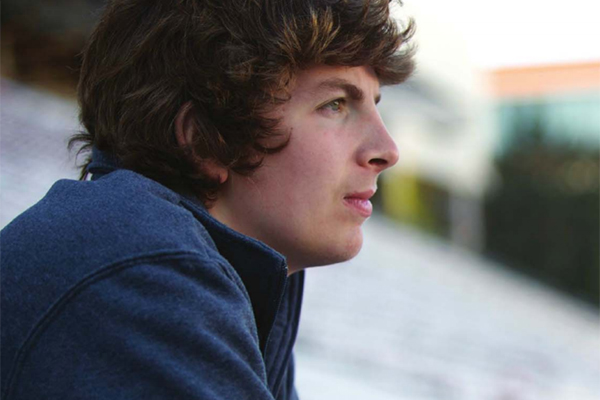 It was exactly 1:29 am, the Sunday after Thanksgiving 2012, when Marcie Healey woke to the sound of her cellphone ringing. She missed the first call, then a second. "When it rang a third time, my heart just stopped," she recalls.
Marcie and her husband, Mike, were spending the holiday weekend at the family's cabin on Vashon Island. Both their sons had cut Thanksgiving break short to return to college—Griffin, a sophomore at WSU, didn't want to miss the Apple Cup.
"Grif's been in an accident. He fell and the ambulance has taken him away," said the shaky voice on the other end of the line.
After a night of partying, Griffin had fallen from his fraternity house balcony and hit a brick retaining wall two stories below.
The next ferry off the island was at 4:45 a.m., and it wasn't until they were actually on the boat that Marcie and Mike learned their son's condition was life-threatening. "We initially had very limited information, so we were really in the dark as to the seriousness of it. To this day, I think that was a blessing," says Marcie.
In fact, the situation had become increasingly dire. Griffin had been intubated at the scene and was neurologically nonresponsive. All flights out of Pullman were grounded because of dense fog, so an ambulance was rushing Griffin to Providence Sacred Heart Medical Center in Spokane.
The Healeys were also unaware that just minutes after the accident, doctors at Pullman Regional Hospital consulted with trauma specialists and neurologists at Sacred Heart about how to best care for Griffin. Meanwhile, Jonathan Carlson, MD, one of the region's most skilled neurosurgeons, was standing by to whisk Griffin into surgery the moment the ambulance arrived.
Marcie doesn't remember much about the 4 1/2-hour drive to Spokane, but one thing sticks with her—the phone updates she received from the on-call chaplain at Sacred Heart.
"He wanted us to know that our son wasn't alone, that he was in good hands and that he was being well cared for," Marcie says. "That was very comforting."
"Thank God That's Not Our Son"
When the Healeys arrived at Sacred Heart about 9:30 Sunday morning, they had been up all night and were physically and emotionally exhausted.
"We ran up to the ICU and were told that Griffin was in post-op and they'd be bringing him back shortly," Marcie says.
The Healeys soon noticed a patient on a gurney, surrounded by hospital staff, with multiple tubes coming out of his body.
"We assumed it was Grif, and both my husband and I ran up and got within about a foot of this guy's face before we reeled back," Marcie says. "This person was unrecognizable to us. We were embarrassed for getting so close, but we also thought, 'Thank God that's not our son.'"
But as they wheeled the patient away, Marcie caught a glimpse of something familiar. She recognized her son's eyebrow.
"It was horrible and chaotic, and we were in shock," she recalls. "We couldn't believe that was our child."
So began what Marcie describes as an "unbelievable dance" to keep Griffin alive, one that lasted two weeks and required the expertise of countless medical professionals and caregivers who were as relentless as they were compassionate.
"They worked so hard," Marcie says. "They were nonstop, they were focused, they were dedicated. They never gave us false hope, but they were always positive. And they encouraged our prayer."
Griffin had sustained a softball-sized hematoma on the right side of his head, above his ear. The blow was so severe that there was significant "midline shift"—the movement of one part of the brain past its center line to the other side. This type of traumatic brain injury usually results in permanent brain damage and is often deadly.

To alleviate the pressure on the brain and allow it to heal, surgeons removed part of Griffin's skull. But the worst was yet to come when Griffin developed aspiration pneumonia with a fever of over 104 degrees.
"He was in an induced coma for about eight days," Marcie remembers. "At one point we counted 11 IV bags with tubes going into his body—they were pumping him with everything from saline to hard-core drugs."
Why Sacred Heart?
On of the early questions the Healeys faced was whether to keep Griffin at Sacred Heart or move him to a hospital closer to their home in Bellevue. After much prayer, soul-searching and firsthand observation, Marcie blogged on Griffin's Caring Bridge website: "Stop wondering why he's not at Harborview. We're confident in Sacred Heart and we know he's in the right place.
"We saw the confidence of Dr. Carlson, the brilliance of the nursing staff and their dedication and devotion to every aspect of Grif's care," explained Marcie. "Even when things were going really badly, the right caregiver were there to get him the help he needed. Not for one moment did their care or concern for my son wane. Thank God he was at Sacred Heart."
A month later, Griffin was admitted to an inpatient rehab facility, at Denver's Craig Hospital, that specializes in traumatic brain injury.

The following February, he returned to Spokane for surgery to replace the part of his skull that had been cryogenically frozen and stored at Sacred Heart. The Healeys could have chosen a hospital closer to home for the surgery, but there was no question—they were going back to Sacred Heart.
"When we came back, just three months after the fall, he was walking and talking, totally normal," Marcie says. "He beat all the odds."
Back to School
In another development that could be described as miraculous, Griffin recently headed back to WSU. Marcie understands why some wonder how she could send her son back to the very environment that contributed to his injury.
"Griffin jumped through many rings of fire to prove to us that he is capable and mature enough to go back to school," she explains.
It helped that all of his therapists subscribed to the same rehab philosophy: not a drop of alcohol for at least two years. He is back in his fraternity, but the fraternity is now dry as a result of the accident.
"Those kids have taken a very mature approach to this. They're not blaming my son, the school, the administration—they're taking accountability and making themselves better," Marcie says.
She also gives WSU high marks for its efforts to stem underage binge drinking. "The fact of the matter is, I know that 20-year-olds are going to drink. It breaks my heart that my son decided to drink that much alcohol and it's no one's fault but his own. There has to be a culture shift, like there was with drinking and driving, and WSU is on the cutting edge of that."
The university has offered Griffin a variety of special services, including a note taker and longer time to take tests, but he has refused them all. In fact, his mom says he is doing better academically than ever before.
When recalling her family's journey, Marcie relays a conversation she had with one of the first responders who treated Griffin at the scene of the accident. "She told me that they were trying to stabilize my son long enough so that we could make it to Spokane to say goodbye to him. By all accounts, my kid is a miracle. And we owe that to Sacred Heart."