New Device Supports Stevens County Rehabilitation Patients
"The first patients were amazed. We had a couple patients that really got a boost of confidence." —Susan Ropp, manager of Rehabilitation Services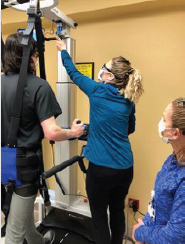 The recovery process after a serious injury or stroke can be frustrating and scary, and a fall during rehabilitation can delay recovery even further. The new LiteGait therapy device at Providence Mount Carmel Hospital provides unweighted support to patients while they use a treadmill to improve their strength, gait and balance. The new device was years in the making at Mount Carmel Hospital, and thanks to your support, our patients have the resources they need to heal.
Before this equipment, caregivers with rehabilitation services had to help a patient remain upright during treatment. "As soon as we put our hands on a patient, it changes how they move," said Susan Ropp, rehabilitation services manager. "Some patients need to move on their own and make mistakes. The LiteGait catches them so they can learn without falling." Ropp pushed for funding to buy this state-of-the-art equipment for years, keeping a brochure pinned to her office cork board to remind her that one day it would be a reality.
Foundation funding to purchase LiteGait was welcome and exciting news. "The first patients to try it were amazed," Ropp said. "Their sense of independence and confidence grew immediately." Thanks to generous donations, the outpatient therapy program is now better equipped to serve its rural communities. During busy times, three patients use the equipment every day.