Community Health Clinic Serves All
"I just want to thank the people at the Providence Community Clinic, let them know they're awesome and they're there for the community. They're there to help us. They're there for al of us."
The Providence Mission is alive inside the Providence Community Health Clinic in Spokane. It is a place for all and utilized most by those experiencing homelessness.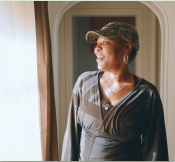 "Being able to go somewhere where you don't have that financial burden or expectation that you need to pay, that's a blessing," said Community Clinic operations manager Robert Lippman, DBH, MSW. "Especially when you have a Mission that's so driven around being steadfast and serving all, especially the poor and vulnerable."
Serving all is present in the details throughout the entire space. The supply closet is filled with socks, shirts and other basic items. There is a kennel for patients who are concerned about leaving pets outside during appointments. A shower is available, and the kitchenette is stocked with food donations.
Generous donations help fund bus passes, clothes and inclement weather items. Donors have also helped provide updated medical equipment as well as plants to create a welcoming and calm environment in the front office. The hope is that patients walk through the doors as they are and experience high quality health care without judgment.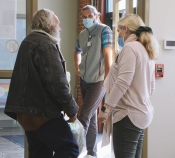 Scott came for a new prescription after his medication was stolen. He received a 30-day supply. "The time was taken to make sure that I was comfortable and cared for," Scott said.
Carol received life-changing help after caregivers helped her set up medical assistance. She continued coming back to the clinic, even after moving into a place of her own. "I just want to thank the people at the Providence Community Clinic, let them know they're awesome and they're there for the community. They're there for all of us," Carol said.
"Building relationships is crucial," Lippman said. He has decades of experience working with unhoused communities. "The only common denominator in all of homelessness is loss of a relationship so I look for ways to build a relationship with everyone who comes in for help."
The community clinic is the only one of its kind in Spokane, and volunteer caregivers serve 1,700 patients per year.
"We are here to meet whatever need walks through the door. We greet everyone with a smiling face and aim to be an expression of healing love," Lippman said. This work would not be possible without your support.