Volunteer Services
At Covenant Health
Give the Gift of Time

Qualified volunteers are needed to work in our hospitals and clinics. Volunteer Services offers volunteer opportunities at the following Covenant Ministries:

Lubbock Region
Regional Ministries
Covenant Medical Center
Covenant Children's

Covenant Specialty Hospital
Covenant Health – Hobbs
Grace Surgical Hospital
Joe Arrington Cancer Center

Covenant Surgicenter
Covenant Medical Group Clinics
Hospice of Lubbock
Adult Volunteer Program
Our Adult Volunteer Program is suitable for anyone 18 and older. This program requires a weekly commitment of approximately four hours. The goal is to help us fulfill our promise to our patients and visitors of "Know Me, Care for Me, and Ease My Way".
CSON Volunteer Program
We are excited to partner with the Covenant School of Nursing to offer them service hours to further their goals within the medical field! A big project we currently have running is our Comfort Cart Rounding on unit floors and Patient Wayfinding.
Surgery Waiting Room Family Liaison
Please note that positions are dependent upon your schedule. These positions typically run from Monday–Friday from 8 a.m.–noon and noon–4 p.m. However, there are some positions that have early morning, night and weekend options.
Volunteer Led Programs
Every volunteer position requires oversight and leadership and some programs in our ministry, like our knitted hats program, are run solely by our passionate volunteers. We are always looking for volunteers who are interested in offering their services to lead a program in our hospital. Whether it is Bereavement Services or Pet Therapy, your leadership can make a huge difference.
SeniorCare Volunteer Program
SeniorCare is a free, community program for anyone who is over the age of 60 and focuses on the mental, physical, and emotional well-being of our seniors through educational workshops, social events, and more. For example, in our SeniorCare Volunteer Program, our group will have a volunteer event coordinated for them every few months.
Student Volunteer Program
College students make excellent volunteers, which is a great opportunity to gain experience in healthcare and build a resume. All students must commit to a minimum of one semester to receive credit for their volunteer hours. The volunteer positions are non-clinical positions that will give you experience in healthcare and the value of patient communication and interaction.
Finding Purpose Through Volunteerism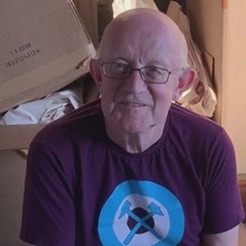 David Williams was born in England but eventually moved to the United States and settled down in Lubbock. He worked as a chemical engineer, but it wasn't until he finished working that he realized his true purpose – volunteering.
"The best way to settle in a place is to think, how can I give to this community?" said Williams.
He explained that he moved a lot throughout his life, but has always enjoyed giving back to the community wherever he is. However, despite having what looked like an ideal life on the outside, it hasn't always been easy for Williams.
Read More