Covenant Medical Center
A Ministry of Covenant Health
Covenant Medical Center's primary focus is on providing our region with a full spectrum of specialties with love, compassion, and care.
Give Now
When You Give, Healing Happens at Covenant Medical Center
Covenant Medical Center was founded in 1998 through the merger of two of Lubbock's most venerable heath care facilities, St. Mary of the Plains Hospital and Lubbock Methodist Hospital System.
From a 10-bed hospital and clinic, to a state of the art medical facility serving West Texas and Eastern New Mexico, we have always been a ministry representing God's healing love. We are steadfast in serving all, especially those who are poor and vulnerable.
We remain dedicated to supporting CMC's emergency department, heart center, and exceptional doctors, nurses, and staff to provide you with the best care possible.
U.S. News & World Report named Covenant Medical Center the Best Regional Hospital in the Panhandle Plains Region! Covenant was also recognized for three high-preforming procedure and condition areas, including knee replacement, colon cancer surgery and congestive heart failure.
Support Covenant. Simply the best.
Our Impact
Covenant Health Foundation is committed to supporting Covenant Medical Center's mission in serving our patients-body, mind, and spirit-in every stage of life.
Good Samaritan Room
Covenant Medical Center is dedicated to supporting our patients in all capacities. The Good Samaritan Room fund provides resources such as clothing, travel vouchers and food to patients and out of town family members who are in need of immediate assistance when in the hospital. Families are comfortable and cared for always.
Covenant Heart and Vascular Institute
For more than 35 years, the Heart and Vascular Institute has been the region's most advanced and comprehensive provider for the prevention and treatment of cardiovascular disease. The Heart and Vascular Institute at Covenant provides services inclusive of routine diagnostic testing through complex interventional and surgical procedures.
Behavioral Health
Covenant Behavioral Health, in collaboration with Texas Tech University Health Sciences Center Department of Psychiatry, has been providing chemical dependency and detox services to adults in the Lubbock and surrounding area for over 40 years. This care is provided in an inpatient psychiatric unit and an outpatient ambulatory clinic.
SeniorCare
The SeniorCare program at Covenant Health is dedicated to partnering with our senior population to ease and facilitate lifestyle changes and transitions. SeniorCare provides a handful of different educational, wellness, and social programs that engage and expand on the well-being of seniors.
Comfort and Ease
Patient experience and ease of navigation throughout the hospital is important to us. When arriving at Covenant Medical Center, you may choose to utilize our superior Valet Service and then you are always greeted by one of our friendly Health Screeners who make sure you are directed to exactly where you need to go.
State of the Art Technology
Covenant Medical Center prioritizes an investment in advanced, state-of-the-art technology to perform clinical procedures in the most effective and safe methods possible. Exceptional medical care, facilities and equipment is a top priority.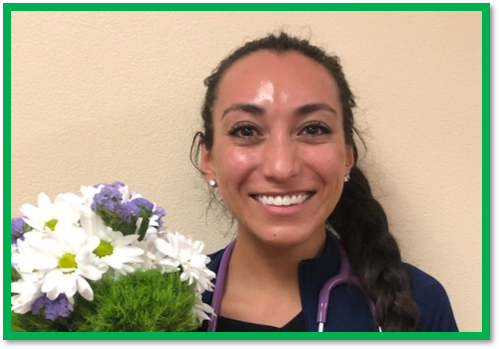 Micaela (Mica) Mitchell, RN, BSN is a nurse on South 6 orthopedic floor. Mica received the DAISY Award on April 28. The DAISY Award recognizes extraordinary nurses for providing compassionate, exceptional, and skillful care to their patients.
"The thing that keeps me most motivated to provide a great level of care to my patients is that I truly just want to be Jesus' hands and feet to my patients. I'm also motivated to do my best because I want to do it for the glory of God! And when I do it for the glory of God I am happy with my work life! And I am happy to take care of my patients!" Mica expressed.
When Mica isn't working, she spends her time caring for her 15-month-old son, Kai, and her husband. Mica enjoys activities outside and her daily devotional in the morning.

We are blessed to have caregivers like Mica, who glorify God and care so deeply for our mission. Thank you, Mica!

Learn More