Evan's Fight Against MIS-C
At Covenant Children's
The Valasquez family had seen and heard a lot about the coronavirus pandemic but could've never imagined how it would impact their family, and most importantly, their vibrant and healthy 13-year-old son, Evan. When Evan tested positive for COVID in October of 2020, his mother Cheryl was nervous with the diagnosis, but prepared to quarantine for two weeks and follow the recommended protocol. Evan only displayed mild side effects including a loss of taste and smell. The family was relieved to find their son recovered well within the two weeks and returned to school and activities normally.
However, just a few short weeks later, Evan developed symptoms of what appeared to be a different sickness entirely: rash, fever, and stomach pains. This worried Cheryl enough to take Evan to Covenant Children's Emergency Department. Several hours later, Evan was released after doctors administered tests and determined he would recover from this new virus. However, the days following his release, his symptoms only worsened. Evan's 105.5-degree fever, red eyes, a rash that now covered his chest and torso, and severe stomach pain prompted Cheryl to return to the Children's ED desperate for help. After many more tests and consultations with specialists, it was determined Evan had Multisystem Inflammatory Syndrome in Children, better known as MIS-C. This would be Covenant Children's second known case of MIS-C diagnosis.
MIS-C can be common in children after contracting COVID-19. This disease causes inflammation in the heart, lungs, kidneys, skin, eyes, or gastrointestinal organs. MIS-C can result in heart failure, and other potentially tragic outcomes.
Although MIS-C is not commonly treated, doctors, nurses, and staff moved swiftly to ensure Evan would receive the care he needed. Evan was admitted to the Pediatric Intensive Care Unit (P-ICU), and immediately had an electrocardiogram and echocardiogram. He was at real risk of heart failure. Though that first day was excruciating, moment by moment, he began to show signs of improvement.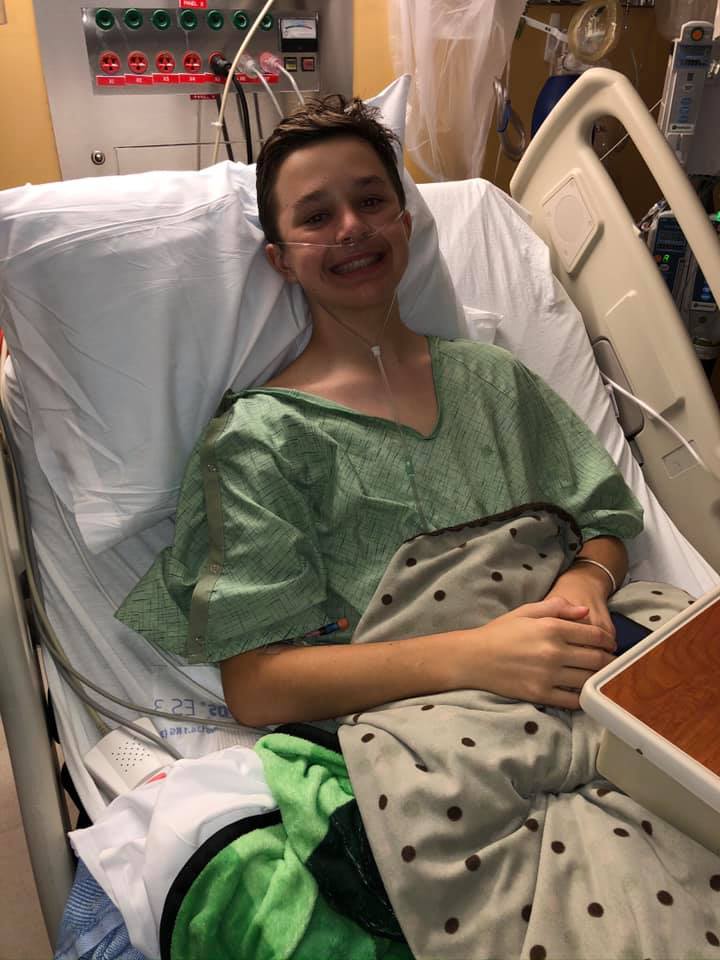 And after six long days in the P-ICU, he was released. Nearly three months later and with regular visits to the cardiologist, Evan is finally on the road to recovery.
Cheryl is relieved that her son is returning to his normal self and encourages parents to watch for symptoms to protect their children against COVID-19. Cheryl has a new outlook regarding the severity of COVID-19. "Wear a mask and take necessary precautions. You never know the long-term effects of COVID-19 in yourself or your children. Be vigilant, aware, and responsible," she advises. Cheryl and other mothers whose children have been afflicted by MIS-C started a Facebook group, MIS-C Support Group to share what they've learned with others.
In addition to talented physicians, Cheryl credits Evan's recovery to the amazing Child Life Specialist Team at Covenant Children's who helped bring healing through daily activities and offered encouragement during great challenges. As an expression of gratitude, Evan's family chose to donate the Child Life Department in his honor. This generous gift of gratitude will help other children, just like Evan, find hope and receive healing at Covenant Children's.