Cancer Center
at Providence Willamette Falls Medical Center
Your donation will help provide and enhance level of care to all who come through our doors – increasing access to treatments, clinical trials and more at the new Carol Danielson Suzuki Cancer Center.
Give Now
World-class cancer care close to home
The Carol Danielson Suzuki Cancer Center at Providence Willamette Falls Medical Center will bring world-class cancer care miles closer to patients in Clackamas County. At the center, nearly all our patients will receive all the care they need - diagnosis, treatment and follow-up - under one roof.
Providence believes in easing the way for our patients. That's why we are building the Carol Danielson Suzuki Cancer Center at Providence Willamette Falls Medical Center. This new center will expand the reach of Providence Cancer Institute, which treats more people with cancer than anyone else in Oregon. Its Earle A. Chiles Research Institute is internationally recognized for developing innovative new immunotherapy treatments, activating the body's own immune system to recognize and destroy cancer.

Carol Danielson Suzuki Cancer Center
The new center will deliver more than 4,000 chemotherapy or immunotherapy treatments each year. Clackamas County patients will find it easier to receive innovative treatments and participate in clinical trials.
State-of-the-art equipment
Technology changes rapidly. Donations help us provide our patients with access to advanced technology, allowing for earlier detection and better monitoring, which in turn lead to improved outcomes.
Specialized and dedicated support
Nurse navigators and support staff provide a calming presence as they assist newly diagnosed patients with appointment scheduling and strategies to manage their cancer journey.
Gift honors the care her mother received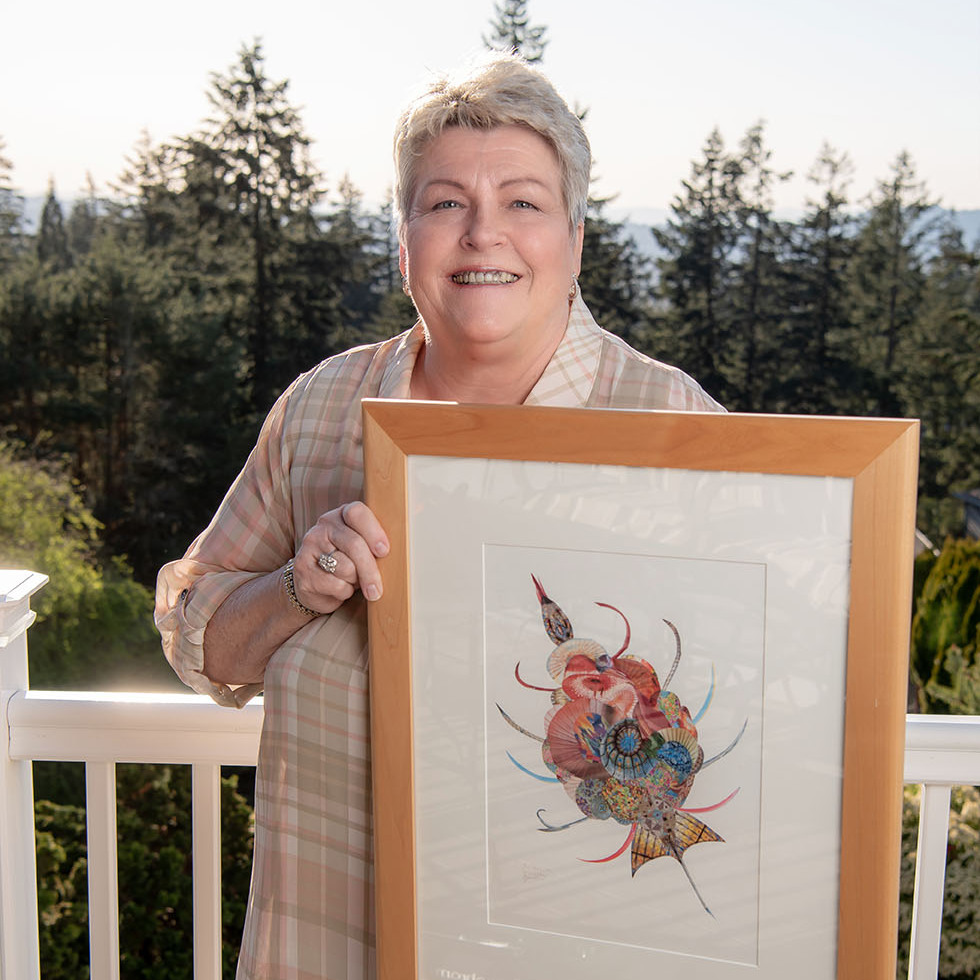 Until cancer took her in 2007, Andrean Gerber lived life to its fullest. A lifelong artist, after receiving her diagnosis in 2000, she spent the next seven years creating colorful collages using images cut from magazines. She held her first public exhibit in 2005 at age 85 and had four more exhibits before she passed.
Throughout her treatment, Andrean was insatiably curious. "Mom loved going to see Dr. Urba," said her daughter Gail Johnston. "She just reveled in talking with him about the science, and he would delve into it with her and, ease her way, is how I would describe it."
Walter J. Urba, M.D., Ph.D., director of Cancer Research at the Earle A. Chiles Research Institute at Providence Cancer Institute, was equally passionate about Andrean's care. "A famous clinic back east said mom's tumor was untreatable," said Gail. "But, Dr. Urba didn't accept that."
Read More