Green Team wins climate award and is on track to reduce emissions by 2030
Did you know the health care sector generates almost 10% of greenhouse gas emissions in the U.S.? Thanks in part to donor support, the Green Team at Providence Willamette Falls Medical Center has facilitated several operational improvements to reduce waste and become carbon negative by 2030.
Decommissioned nitrous system
Nitrous gas is now rarely used by providers. Alternative anesthetics pollute less and perform equally well. Providence Willamette Falls received the Circle of Excellence in Climate Award from Practice
Greenhealth because of the nitrous removal project—one of ten hospitals to receive this honor in 2022.
Added surgical autoclave economizers to save water
Providence Willamette Falls uses 12 million gallons of water a year, 1 million of which is used by surgical autoclaves. Economizers for these machines improve water efficiency by 95% with a return on investment in 3 years.
Power campus with wind energy
Wind energy is safe and renewable. Through the PGE Green Future Enterprise, we pay a minimal
4% premium on electricity to ensure it supports clean energy.
Lowering emissions from food by 25%
The impact of food consumption can be easily reduced. Over the next year we will add to the
menu meat alternatives, plant-based milks, beans, legumes and lentils. These foods require less land
and produce fewer emissions compared to meat products. In response to multiple requests, a new
salad bar station has also been purchased to safely offer a large variety of produce and meat alternatives.
These are just four of the many projects initiated by the Green Team. Work in environmental
stewardship promotes a healthy community and provides value for our patients. Providence facilities
around Oregon have observed our success and are following suit.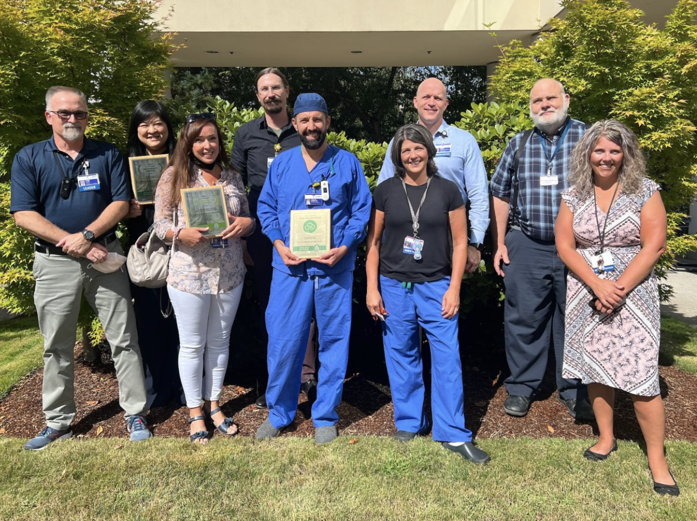 Led by Stephen Swank, M.D., (center) the Green Team at Providence Willamette Falls Medical Center received the Circle of Excellence in Climate Award in 2022.