Care for every heart
Providence St. Vincent Medical Center
Bring the most advanced new technology, research and program development to Providence Heart Institute, the largest provider of cardiovascular services in the Northwest.
Give Now
Donors help bring innovative heart care to Oregon
In Oregon, the facts are alarming: one in five Oregonians dies of heart disease. 63 percent of adults have at least one of the three top heart disease risk factors. And the rates of high blood pressure and hardening of the arteries among youth and young adults are rising rapidly.
With our older population growing, Oregon faces a tidal wave of heart disease. With your help, we can meet this need by expanding access to cardiac rehabilitation. We can advance research to make care more effective, responsive and fair. Your gift can power prevention and wellness programs, including free heart screenings for thousands of youth each year. Your gift will change lives.
Your Impact
When you give to support Providence Heart Institute you advance innovative treatments and technology, deliver heart disease prevention and wellness programs to the community, propel clinical trials and data-based research and provide lifesaving support not covered by insurance.
Center for clinical care
Purchase equipment, develop new programs, provide unreimbursed support services for people with advanced heart disease and cover travel and lodging expenses for financially vulnerable heart transplant patients.
BASECAMP prevention + wellness
Provide patients and community members innovative wellness programs like classes on fitness, heart-healthy cooking and women's heart health.
Cardiovascular Analytics, Research + Data Science (CARDS)
Improve clinical treatments and advance equity in care for heart patients by supporting research using data gleaned from millions of procedures and clinic visits.
Gift launches talented transplant team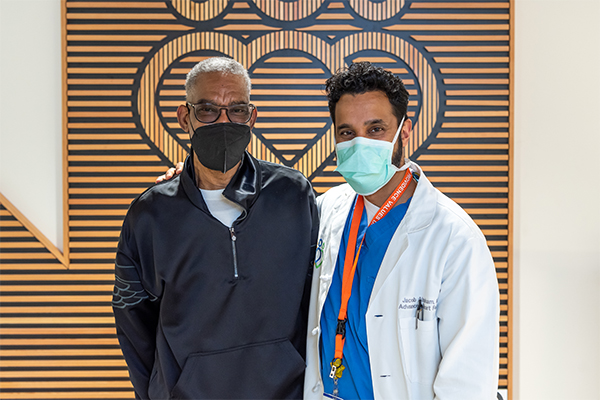 Howard H. White marvels that the generosity of Phil and Penny Knight allowed him to receive a new heart close to home. "It was a Sunday morning in 2017 when my doctors told me I might need a new heart," he said. "They told me I might need to go to California. And three years later a donation makes a transplant program right here, almost right down the street. That's wonderful!"
A talented athlete and advisor to Michael Jordan and other sports stars, Howard had been fit all his life. But in 2017 it suddenly became hard to climb stairs. "One night my wife told me the real thing," he said. "She didn't know if she could go to sleep because she thought I might stop breathing."