Re-Imagining Emergency Care for Children
Better, faster emergency care for children

Serve
15% more children by 2030

Reduce
waiting times by more than half

Fewer
kids sent to other hospitals

Improve
privacy, safety and security
The Problem
Last year our emergency department cared for nearly 11,000 children and adolescents, a number that is expected to grow by more than 15% by 2030. Nearly 900 of those patients came to us with behavioral health needs. In fact, there is a 5-in-6 chance that a teen has come to us because of a mental health crisis.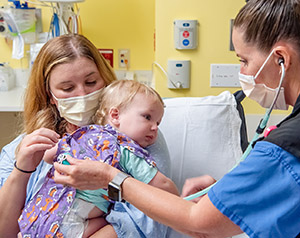 Our current facility includes 13 beds for pediatric patients. But sometimes those beds fill up and we need to care for children among our adult patients in an environment that may not always be appropriate. The current facility also provides little privacy for pediatric patients experiencing behavioral health crises. Without new facilities, these problems will rapidly grow worse.
The Solution
The new facility will allow us to serve more children and adolescents and provide them with a faster, more secure and private experience:
A new flexible care zone adjacent to the pediatrics zone will include 13 rooms that can be quickly changed to make them suitable for pediatric patients if there is a surge in children needing care.
A room in our current pediatrics zone designed to be safe for children experiencing mental health crises will be augmented by two rooms in the flexible care zone designed primarily to serve children and adolescents in crisis.
Increased diagnostic capacity, including a second CT scanner, will speed diagnoses and reduce the time pediatric patients and their families spend waiting for diagnoses and discharge.


A separate pediatric waiting area will provide an environment appropriate for children.


Pediatric patients with behavioral health crises will benefit from a separate, more private entrance.