Re-Imagining Behavioral Health Emergency Care
Better, faster emergency care for people experiencing behavioral health crises

25%
More patients accommodated

Improve
privacy for more patients and families

Increase
safety for patients and caregivers

Reduce
stress and over-stimulation
The Problem
The emergency department at Providence St. Vincent Medical Center is recognized for providing exceptional care for people experiencing behavioral health crises. We have a dedicated treatment area, crisis intervention specialists, mental health technicians, and quick access to psychiatric consultations.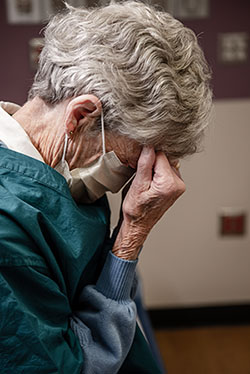 But it is critically important to improve our facilities for people experiencing mental health issues, who make up more than 7% of our patients and take 21% of our time. Adult behavioral health patients stay in our department up to four times longer than medical patients. Last year nearly 900 children and adolescents came to us with mental health needs. In fact, if you are in our department as a teen, there is a 5-in-6 chance that you have come to us because you are in crisis.
The Solution
Our new facility will increase safety and privacy for vulnerable behavioral health patients:
A separate entrance for patients in crises will reduce their stress and enhance their privacy.
The main behavioral health unit will be expanded to create 10 dedicated and secure spaces to keep patients and caregivers safe and allow easy access to staff, social workers, and psychiatric specialists.
A new flexible care zone will include 13 rooms that can be quickly changed to make them safe

for behavioral health patients, including two rooms designed primarily to meet the needs of children and adolescents.