Providence Cares for Kids
Providence St. Vincent Medical Center
Provide critical support for our children's programs. Help advance our commitment to the health of children born at Providence St. Vincent and every child in Oregon.
Give Now
Specialized care for children statewide
More than 9,000 babies are born in a Providence hospital every year, each with their own unique health care needs. Some arrive as premature babies. Some develop chronic conditions or challenges. Some are healthy but are affected by the medical conditions of family members.
One in five children has a special health care need. And when children are involved, illness, injuries and need for extra help affect entire families. Thanks to generous donors, we help families navigate the twist and turns in each child's health care journey.
Your Impact
Providence cares for more of Oregon's children than any other health care system. More than half of these children and their mothers are among our state's lowest-income citizens. They need your support now more than ever.
Enhance neonatal intensive care
Enhance care for more than 500 babies each year in St. Vincent's neonatal intensive care unit by providing family supports, safe sleep sacks for newborns and equipment to care for premature infants.
Develop children's potential
Help special needs children develop their full potential by supporting our Swindells Resource Center. Provide families free workshops, classes, and resources while helping coordinate complex medical care.
Ease children's stress and fears
Support certified child life specialists as they use play and child-friendly explanations to help children cope with their own or a family member's illness, injury, treatment or hospitalization.
Promote healthy pregnancies
Support our social workers helping new mothers develop plans for the healthiest pregnancy possible.
Advance research
Boost children's health through research on brain development, nourishment of premature infants and reducing maternal mortality.
Meet children's unique needs
Provide comprehensive medical outpatient therapies for children with developmental needs through Providence Children's Development Institute.
Providence Children's Development Institute

Providence St. Vincent Medical Foundation

Provides support, rehabilitation and specialized care for children with developmental concerns, from infancy through adolescence.

Safety Net Fund for Families

Providence St. Vincent Medical Foundation

Provides for unmet needs of families receiving care in our women's clinics, family practices and pediatric specialty clinics.

Swindells Resource Center

Providence St. Vincent Medical Foundation

Provides parents and caregivers of children with special needs with peer-to-peer support, free resources, information and education.

Women and Children's Research

Providence St. Vincent Medical Foundation

Explores methods to give babies the chance to start strong and children the chance to grow to their full potential.
Calming fears and anxiety in children in the hospital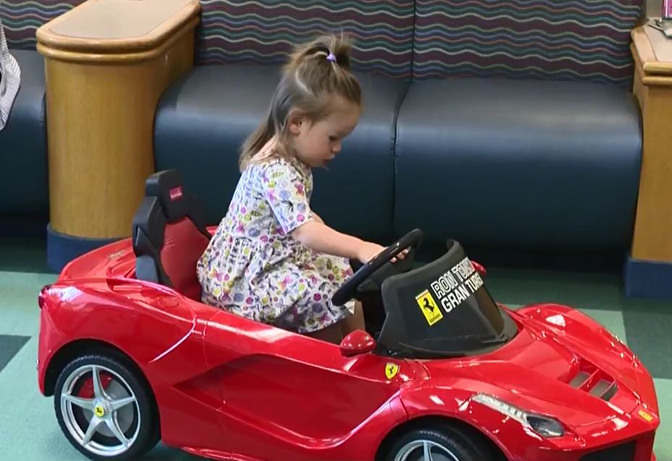 A mini Ferrari, virtual reality goggles and even stuffed animals all have the ability to ease the anxiety of our youngest patients at Providence St. Vincent Medical Center.
Caregivers known as child life specialists make the rounds with a cart full of toys and technology in hopes of giving pediatric patients fun distractions to ease their anxiety about being in the hospital.
"A lot of kids come into this setting with fears and uncertainty about what to expect," said Christina Becerra, child life specialist at Providence St. Vincent. "Our job is to say here's what's happening and here is why it is important."
Read More