New Ways to See Inside the Heart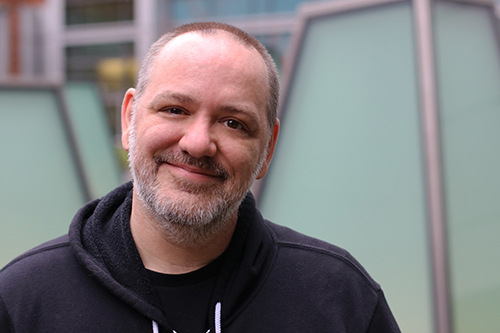 New technologies at the Jubitz Family Center for Excellence in Coronary Intervention are revolutionizing care of coronary artery disease for patients like Jamie McParland. Jamie suffered from a condition in which a coronary artery has a longstanding complete or almost complete blockage. "My heart was slowly dying," he said.
Cardiac interventionalist Richard Sohn, M.D., has seen first-hand how technology is improving outcomes for patients like Jamie. He uses catheters to place stents to improve circulation in the heart. "Ten years ago, I thought I was a hot-shot interventionalist," he said. "But I now know so much more thanks to what we've learned using new technologies. Our program is definitely way better today. And we're leaders because we've really embraced the latest technologies."
Dr. Sohn and other Heart Institute interventionalists are using new devices to produce "eye-dazzlingly" sharp images from inside patients' coronary arteries. The images are used to determine exactly what size stents to use, exactly where to place them, and how to expand them perfectly. In complex cases like Jamie's, the technology helps Dr. Sohn and fellow interventionalist Jason Wollmuth, M.D., to re-open complete blockages from both sides simultaneously. Contributions to the institute's Center for Cardiovascular Analysis, Research + Data Science (CARDS) have supported clinical trials evaluating use of these technologies.
"Before we would use x-rays alone for these procedures. But that's using a two-dimensional picture to assess a three-dimensional object," said Dr. Sohn. "We now use these newer devices in more than 90% of our stent procedures, even the simple ones, which translates into superior outcomes. By comparison, the national average is around 10%."
Another device has solved a different longstanding challenge – calcium deposits that can encircle the walls of arteries or form stony bumps that reduce a stent's effectiveness. Based on the same principle used to break up kidney stones, this ultrasound technology pulverizes those deposits from inside arteries, allowing stents to be placed and fully expanded exactly where they need to go. "We can break up the hard stuff without hurting the soft stuff," said Dr. Sohn.
New technologies are also allowing Heart Institute interventionalists to diagnose and treat causes of debilitating heart attack-like chest pains that are invisible by standard angiograms. This includes blockages of tiny "microvessels" and spasms of otherwise normal-appearing vessels. "We can now treat someone who might have had five angiograms that didn't reveal what was causing their distress and were told incorrectly 'your heart is fine'," said Dr. Sohn. The Heart Institute is the only program in Oregon offering these more accurate diagnoses.
Jamie feels the difference. "I thought I was tired just because I was getting older," he said. "Now I walk around feeling like I'm shooting out of a cannon."