John and Susan Hayhurst gift creates research fund to improve orthopedic care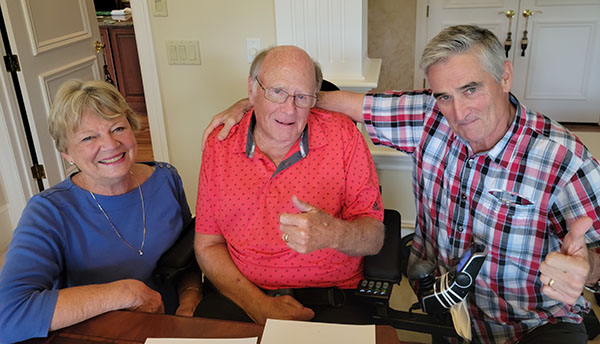 When orthopedic surgeon John Hayhurst, M.D., invented and patented orthopedic surgical methods and devices during his practice, little did he know that he and his wife, Susan, one day would create a path for future orthopedic research at Providence.
The device Dr. Hayhurst invented is for a suture anchor used commonly in the sports medicine field of orthopedic surgery. His device is used worldwide, benefiting countless orthopedic patients with meniscal tears who require repairs, rotator cuff injuries and tendon repairs of the quadriceps mechanism to name a few.
The couple recently created the John and Susan Hayhurst Fund for Orthopedic Research. The Hayhursts' generosity stems from their passion for continuing high-quality research and for training future orthopedic experts.
The fund will support current and future research initiatives of Providence Orthopedic Institute, guiding innovation and future treatments for orthopedic patients. The institute recently published a study that addresses the cost of periprosthetic fractures (fractures that occur around a joint replacement prostheses). An upcoming study examines the impact of hip revisions on cost and health care staffing. The Providence Orthopedic Institute's study and innovation efforts are led by research director Paul Duwelius, M.D.
"After many years of working at Providence Orthopedics, we felt it was time to give back," said Dr. Hayhurst. "We feel research in orthopedics is important to continue the advancement of patient care and positive outcomes."
Drs. Hayhurst and Duwelius were colleagues and partners at Providence St. Vincent for decades and were members of Orthopedic and Fracture Specialists before Dr. Hayhurst retired in 2003.
"John has been a great mentor to me in the field of orthopedics, not only as a partner, but as someone to look up to in the care of his patients and his surgical techniques," said Dr. Duwelius. "His interest in developing new ideas and products in the field of orthopedics also helped me in developing new products and surgical techniques.

"Their generous gift to Providence Orthopedic Institute means a great deal to me personally. John and Susan know that we have an excellent track record in clinical outcomes, research and teaching," said Dr. Duwelius. "We plan to honor their gift by continuing our commitment to high-quality research and to teaching the new generation of orthopedic residents."
Providence Orthopedic Institute works closely with more than 150 orthopedic physicians and surgeons in Oregon, in addition to nurses, physical therapists, occupational therapists, case managers and residents from OHSU. The institute's research coordinator is funded through generous donors.